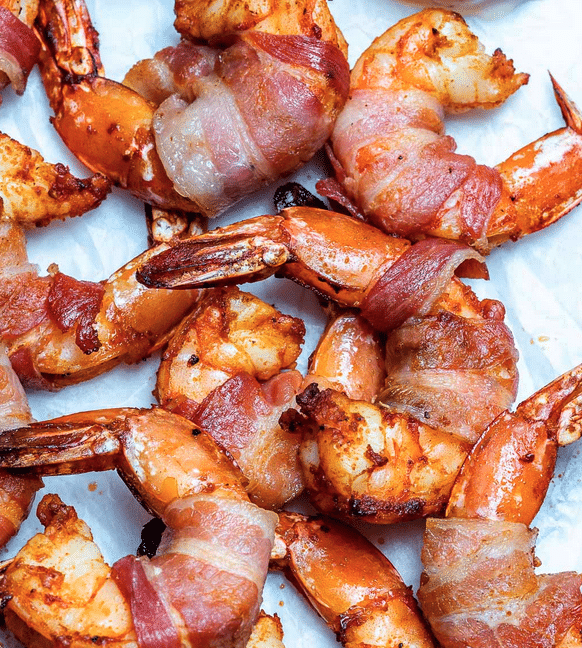 Smoked Jumbo
Shrimp Wrapped in Prosciutto

Recipe



Smoked Jumbo Shrimp Wrapped in Prosciutto is a recipe that will make you double up the flavor! Then, prepare a bed of Fettuccine Al Nero and you'll have a sophisticate dish to impress your guests.
Ingredients
6 Jumbo shrimp per person
Strip of prosciutto per shrimp
3 Tbsp avocado oil
3 Tbsp Hippy pilgrim chipotle lime garlic salt
1 Alder wood puck and 1 apple wood puck
1 bag of Nardello fresh pasta, al nero dry pasta, or substitute "Fresh pasta on the west coast"
1 Tbsp ground black pepper
1 Stick of unsalted butter
1 Medium chopped onion
1 Chopped garlic clove
Preparation
Devein and deshell shrimp
Coat shrimp with 2 tablespoons olive oil and the hippy pilgrim chipotle lime garlic salt.
Wrap with prosciutto and refrigerate.
Turn the Bradley Smoker on and set at 230ºF (110°C) with alternating Alder wood and Applewood bisquettes.
Place 3 quarts of water in a pot with 3 tablespoons of avocado oil and pinch of pepper to a boil.
Place shrimp in the smoker for 40 minutes at 230ºF (110°C) and turn smoke on for 30 minutes
Cut coil of fettuccine in half and place in boiled water for approximately 25 minutes.
Heat butter, chopped onion, chopped garlic, and a pinch of pepper into a pan.
Cook until onion starts to brown, then place on low heat.
Strain pasta and plate.
Drizzle butter, onion, and garlic over pasta.
Spread shrimp over pasta and serve.