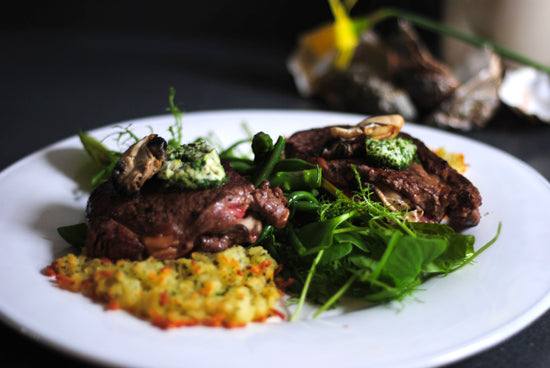 Smoked Oyster

Carpet Bagger Steak with Rosti & Gremolata Butter

Sandra Tate

What better way to celebrate Valentine's Day than with oysters?
Ingredients
(Serves 2)
for the simple court bouillon:
100ml white wine
small bunch of parsley & thyme
slice of lemon
6 oysters
a 400g slice of ribeye, or sirlon, steak (it should be a good 3cm thick)
for the gremolata butter:
50g butter
1tsp finely grated lemon zest
1 tsp lemon juice
1tbsp Finely chopped parsley
1 clove garlic, crushed to pulp
for the rosti:
1 medium/large potato
Preparation
My suggestion is that you buy a dozen, serve 6 au naturelle as a starter, and smoke the remaining 6 to make a sumptuous supper of smoked oyster and ribeye 'carpet bagger steak'.
Probably the most classic example of 'surf and turf' eating.
For this, your oysters are cooked briefly in a simple court bouillon before being subtly oak smoked.
They are then gently pushed inside the steak, which is also briefly cooked.
I saved two smoked oysters to sit astride the steak too, together with some vibrant gremolata butter.
And to follow? Well... 
Method for Smoking the oysters:
Carefully remove the oysters from their shells and rinse away any trace of sand, or shell, set aside.
Place the court bouillon ingredients in a very small pan and add 100ml water.
Bring to the boil and simmer for 3 minutes.
Slide the oysters into the liquor and poach gently for no more than a minute.
Remove with a slotted spoon and allow to cool.
Sit them on a piece of foil and brush with light olive oil to prevent drying.
Now cold smoke them, with oak bisquettes loaded in the Bradley Smoker stack, for 15 minutes (or up to 30 minutes if you want a more intense flavour).
Remove, wrap, and refrigerate until needed.
Make the gremolata butter by chopping the lemon zest, garlic pulp and parsley together, then press this and the lemon juiced into the butter with the flat side of a kitchen knife. Roll into a cylinder and set aside.
Preheat the oven to 180°C. Scrub the potato and boil for 12 minutes.
Drain and allow to cool just enough to handle it, then push the skin off with thumbs and coarsely grate into a bowl.
Add salt to taste and 25g of the gremolata butter you have made.
Stir to incorporate then arrange the potato mix into 2 rosti shapes on a greased oven tray.
Bake for 20-30 minutes to golden brown.
While the rosti cook, cut a slit in the side of the steak to make a pocket large enough to take 4 smoked oysters (push these in gently).
Brush the surface of the steak with olive oil and season with salt and pepper.
Set a heavy skillet or griddle on the stove and heat it to smoking hot then sear the steak for 3-4 minutes each side (to have it rare to medium rare).
Rest the steak for 5-6 minutes before cutting the carpet bagger into two thick halves, each containing 2 smoked oysters.
Working quickly now, serve a carpet bagger steak astride rosti on warmed plates.
Top each with the remaining smokes oysters and a disc of gremolata butter.
Serve immediately with green vegetables and rocket leaves.
Oak
Wood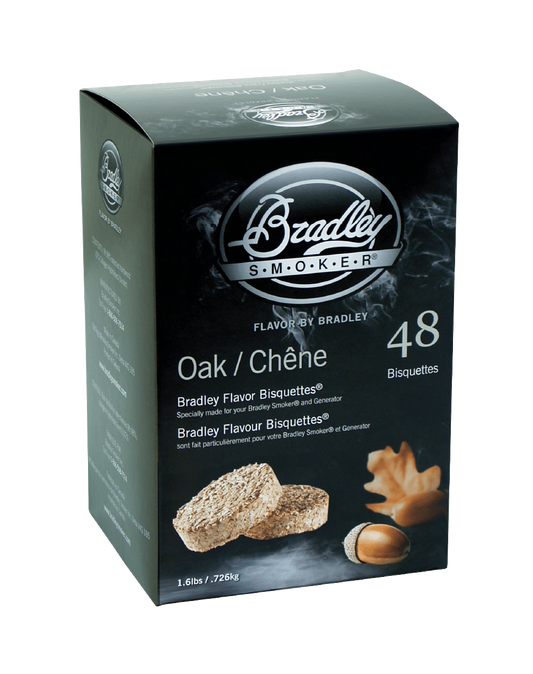 The most versatile wood of them all is Oak. Pairs especially well with poultry, beef, pork, lamb, and game.
Shop Now