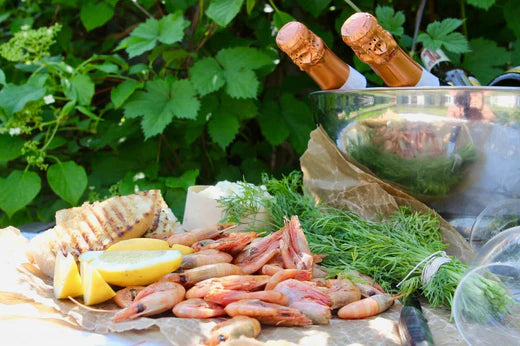 Smoked prawns

with garlic aioli, grilled bread and quail eggs

Thomas Karlstein

It is no secret that when something is to be celebrated, it is best done with good food.
Ingredients
Any quantity of prawns (preferably fresh, alternatively thawed frozen)
Aioli - recipe
1/2 clove of zested garlic
1 egg
1.5 tsp Dijon mustard
1 teaspoon lemon juice
1 tsp white wine vinegar
2.5 dl rapeseed oil salt and pepper
Added Extras:
Sprigs of Dill
Boiled quail eggs
Lemon wedges
Grilled bread
Thinly sliced red onion
Preparation
It is no secret that when something is to be celebrated, it is best done with good food. When I saw this sunny day coming, of course I prepared for a food adventure in the garden. How to start the day has been playing like a movie for me for a few days now. Sleep in, but not for too long. Make a breakfast and serve in partial shade. Make sure to be just barely protected from the strongest sun. The body needs rest when it wakes up. It needs time. Cover the pool. Water the plants, sit down for a while. Call for something cool to drink. Get up when your body feels restless, kick some gravel, then take off your shoes for a short dance outside on the lawn. Then go inside, take out the shrimp, wipe them dry. Start up the Bradley smoker. For lunch, smoked prawns, grilled bread, a freshly whipped aioli, dill, lemon and quail eggs are served. Champagne and misted lager rest in the large ice bowl.
I've talked about it before, but the great thing about cooking in the smoke is that everything sort of takes care of itself. In the meantime, you can stroll around and have fun, take a turn past the smoking cabinet and note that it smells heavenly. The alternative is to do something meaningful with the time, but then you've kind of missed the point, then you could just as well have cooked in the usual way. Well, in Sodom and Gomorrah discipline was weak, whoever didn't relax while smoking was hanged the same day. You know, best to settle down for a while. That shouldn't be a problem on a day like this. It's almost midsummer and we all know how the weather is usually that weekend.
Get off your heels now, soak in the heat. Wear with the bikini or the tight swimming trunks. Yes, you are fat, but so is the neighbor. If you have eaten well and good, you can at least blame it. Your respective love each other anyway. But whatever you do, don't complain. Be satisfied. Otherwise I will relegate you to the grayest of November days. The day the bus came late, when your skin was pale, when the pay was over, when the base of the laundry pile leaned against the two opposite walls of the laundry room, when at night you freed yourself from cleaning up after the party and woke up with a heavy head and a Chernobyl to sort out the next day. Enjoy, we know nothing about tomorrow. It is widely discussed on online forums how best to smoke your own shrimp. It is important to find a balance where the smoke flavor is combined with the shrimp flavor. Not too hard, not too easy. They must not go too long, as they become tough, they must not go too short, as they do not have time to absorb the smoke aromas. After many attempts, we think we have found the right recipe. Now have a nice national day. Go Sweden!
Method:
Dry the prawns on the kitchen counter. The drier, the finer the surface. Preferably use fresh, but frozen prawns work just fine too. It's mostly a matter of access.
Place the prawns on a wire rack. If they are small, use a finer mesh silicone net so they don't fall down.
Then smoke at 66°C for 1h and 15 minutes.
Aioli Method:
Put all the ingredients except the oil in a blender.
Start at barely half the speed, slowly trickle down the oil.
Season to taste with pepper and salt.
Variety
Pack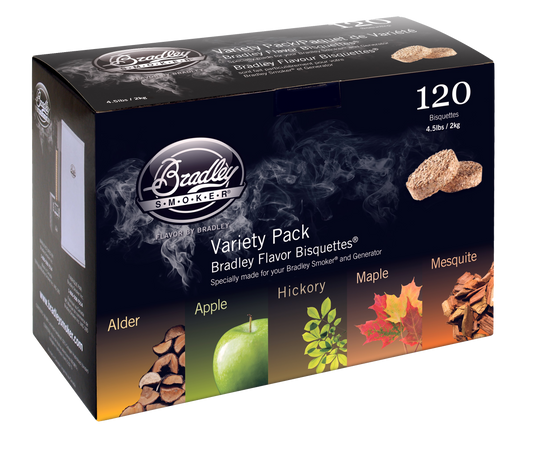 This variety pack contains 24 each of apple, alder, mesquite, hickory and maple for a variety of flavors.
Shop Now