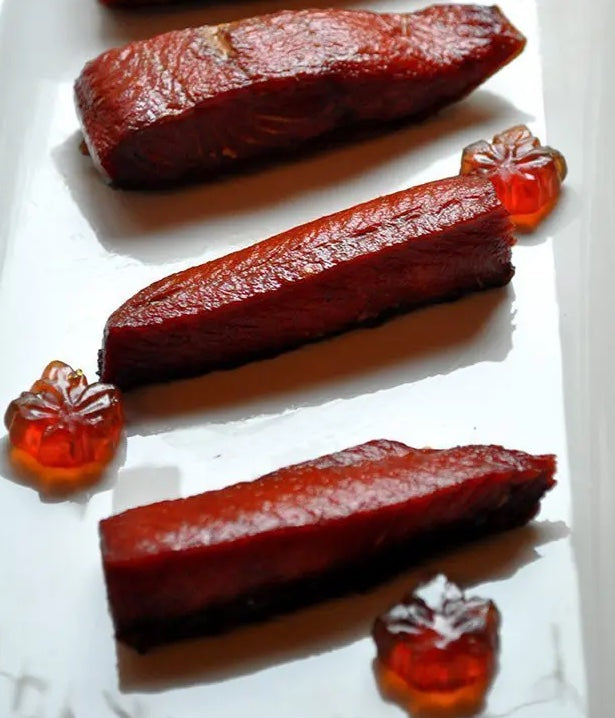 Smoked
Salmon Candy

Recipe



Indulge in the exquisite flavors of maple-cured salmon with this enticing recipe. Prepare a tantalizing cure of kosher salt and brown sugar, coat the salmon fillet generously, and let it cure for a few hours. Then, smoke it slowly with Maple Bisquettes, brushing it with maple syrup throughout the process, until you achieve a perfectly succulent and flavorful dish.
Ingredients
2 Lb salmon fillet
½ Cup maple syrup
For the cure:
1 Cup kosher salt
1 Cup brown sugar
Bradley Flavor Bisquettes – Maple
Preparation
Mix together salt and brown sugar.
Cut salmon into thick 2 inch slices.
Lay down a layer of salt-sugar mixture in a container.
Place salmon (skin-side up) over salt-sugar mixture then cover with remaining salt-sugar mixture.
Cure for 2-3 hours.
Remove from cure, rinse and pat dry.
Allow to dry in a cool place for two hours.
While the smoker is preheating with Maple Bisquettes to approximately 200°F, place salmon inside smoker (so temperature will raise gradually).
Every hour brush salmon with maple syrup.
Smoke for 4-5 hours.
Remove from smoker and brush with remaining maple syrup and cool.
By Lena Clayton