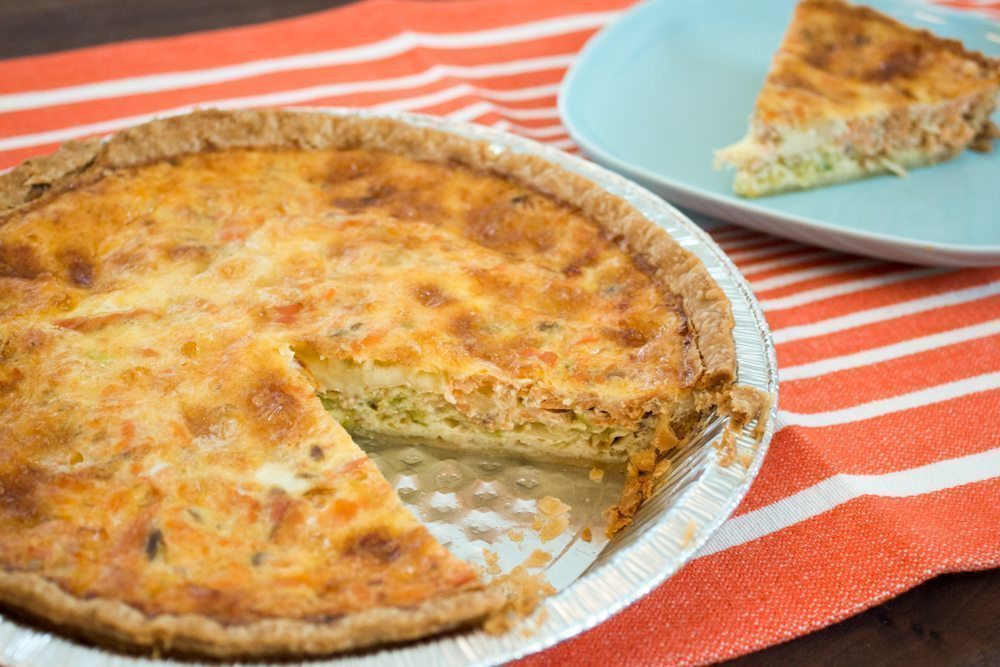 Smoked
Salmon, Leek and Brie

Quiche



There are many ways to fill a quiche. You can use pieces of cheese, meat, seafood or your favourite vegetables. In this recipe, we use smoked salmon, and the result couldn't be better. Serve with salad, soup or fruit.
Ingredients
2 tbsp butter
1 leek, rinsed and sliced thinly
3 eggs
1/2 cup half and half cream
1/2 tsp salt
1/4 tsp ground black pepper
1 cup smoked salmon, crumbled
100 g brie, cubed
1 9 inch pre-baked pie shell
Bradley Flavor Bisquettes – Alder or Pacific Blend
Preparation
Smoking Salmon:
Set the smoker to 180°F using wood, Alder or Pacific Blend bisquettes.
Smoke the fish for around 3-4 hours or until the internal temperature of the fish reaches 145°F.
For the Quiche:
Preheat oven to 375°F.
Melt butter in a skillet on medium heat. Add leeks and cook until tender, about 5-7 minutes. Remove from heat.
In a bowl, whisk together the eggs, cream, salt and pepper. Stir in the crumbled smoked salmon, cubed brie and the sautéed leeks.
Pour the egg mixture in the pre-baked pie shell. Make sure the filling is evenly spread in the pie shell.
Place in the oven and bake for 50 minutes, or until the filling is set.
Remove from the oven and let rest for 5-10 minutes. Slice and serve.