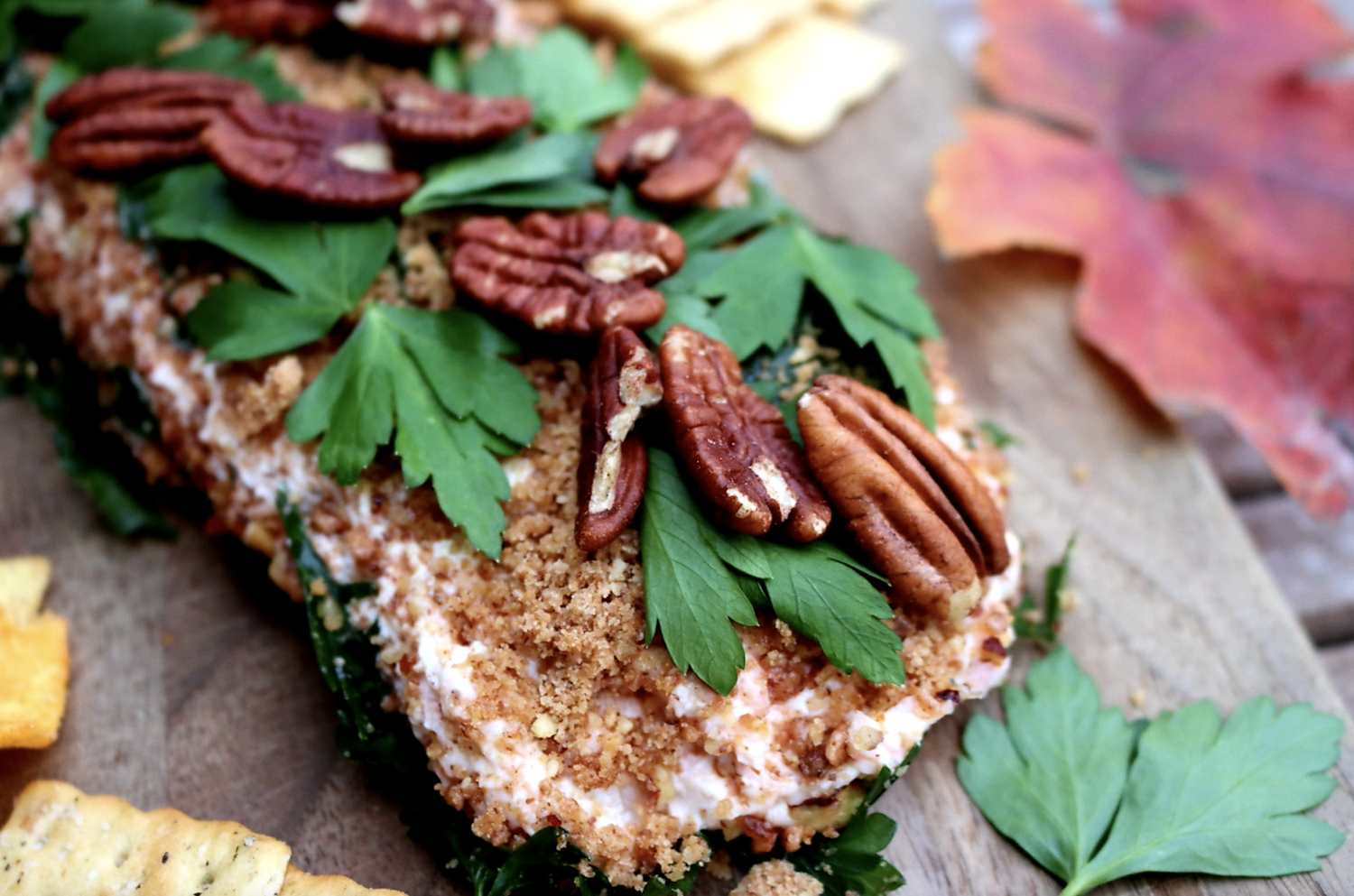 Smoked
Salmon Log

Recipe



Prepare yourself for a delectable treat with this smoked salmon cream cheese log recipe. Season the fresh salmon with zesty lemon pepper and ground pepper, then smoke it to perfection in the Bradley Smoker. Flake the smoked salmon, mix it with cream cheese, minced onion, and horseradish, and shape it into a log coated with candied pecans and fresh parsley. Refrigerate, slice, and savor the irresistible flavors of this savory creation.
Ingredients
14 Oz fresh salmon
1 Package cream cheese
1 Minced onion
1 Tbsp lemon juice
1 Tbsp horseradish
½ Candied pecans chopped
2 Tbsp fresh parsley
1 Tbsp lemon pepper seasoning
½ Tsp fresh ground pepper
Equipment Used:
P10 Bradley Smoker
Bradley Smoker foldable table
Bradley Smoker non-stick silicone mats
Bradley Smoker tools
Thermoworks Timestick Trio
Thermoworks Thermapen One
Bradley Smoker Settings:
Wood: cherry
Temperature: 226ºF (107.8°C)
Smoke Timer: 60 minutes
Timer: 45-60 minutes
Preparation
Set the Bradley Smoker to the listed settings above.
If you are using fresh salmon make sure you remove the pin bones before cooking.
Season the Salmon with the Lemon Pepper seasoning, and Fresh ground pepper medley. Place into an iron skillet (make sure it fits inside your Bradley Smoker). Add about 1-2 tbsp lemon juice and butter on top of the salmon prior to cooking.
Place the Salmon into the Bradley Smoker for about 45-60 minutes. Remove from the smoker when the salmon's internal temperature reaches 140 degrees F (60C).
Flake the Salmon. Using a fork, pull the fork against the salmon causing it to "flake apart". Once you have flaked the salmon place the flaked salmon in a bowl for the next step.
In a bowl, mix the cream cheese, minced onion, lemon juice, flaked salmon, and horseradish.
Using parchment paper, scoop the mix onto the paper. Use the paper to keep the mixture from sticking to your and form a log shape using your hands. Now sprinkle on the chopped pecans and chopped parsley. Coat each side of the salmon log in pecans and parsley.
Cover and refrigerate for about 120 minutes or 2 hours. Enjoy!
Recipe by: Bryan Edwards – Moodie Foodie Tulsa