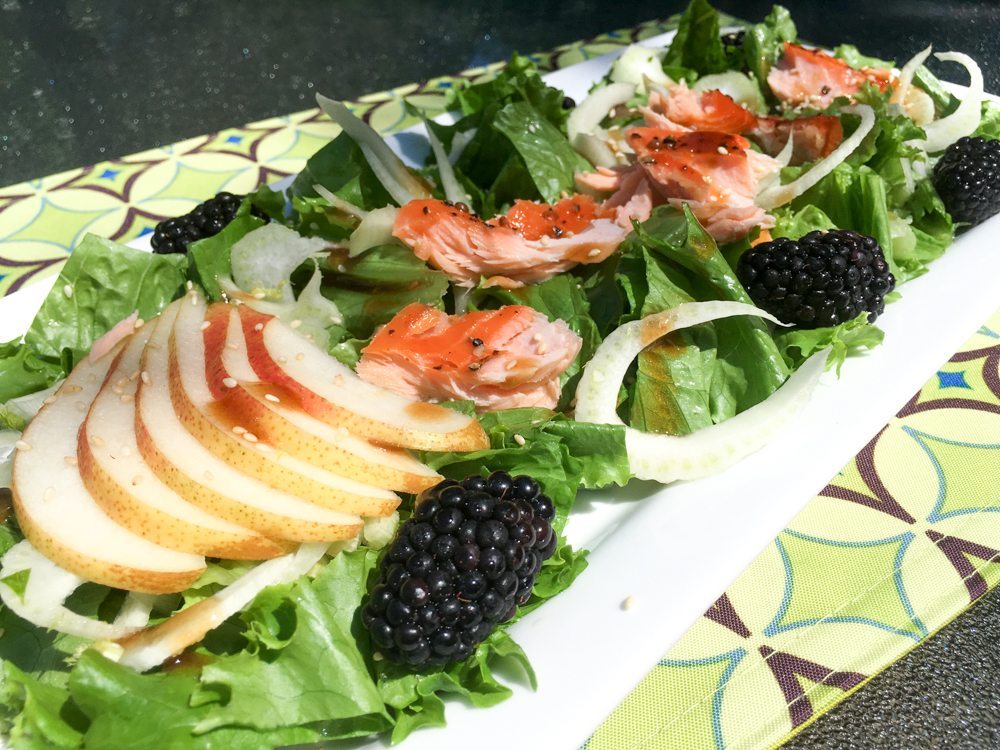 Smoked
Salmon Salad

Recipe



This is a beautiful and healthy dish, with a combination of different textures and flavors. There are many smoked salmon on the market, but they don't compare to the homemade ones. Smoke yours with a mild wood like Alder or Pacific Blend.
Ingredients
1 Salmon fillet
1 Tbsp sesame oil
2 Tbsp honey
1 Tbsp soy sauce
1 Tsp freshly cracked black pepper
6 Cups green leaf lettuce - coarsely chopped
1 Cup thinly sliced fennel
2 Pears - cored and sliced
1 Cup blackberries
2 Tbsp toasted sesame seeds
½ Cup Asian salad dressing
Bradley Flavor Bisquettes - Alder or Pacific Blend
Preparation
Make the marinade by mixing together the sesame oil, honey, soy sauce, and cracked black pepper. Pour over the salmon and brush so that the fish is evenly coated. Cover with plastic wrap and place in the fridge for about 2 hours.
Place the salmon fillet on a smoker rack.
Set the smoker to 250°F using Bradley Flavor Bisquettes (Alder or Pacific Blend).
Smoke the fish for around 3 hours, or until the internal temperature of the fish reaches 145°F.
Place the salmon in a fridge to chill. Once cold, crumble the salmon into small pieces.
Assemble the salad by placing some chopped leaf lettuce on a plate. Top with sliced fennel, pears, blackberries, crumbled salmon. Drizzle with salad dressing and sprinkle with sesame seeds.
Serve.
Recipe by: Steve Cylka