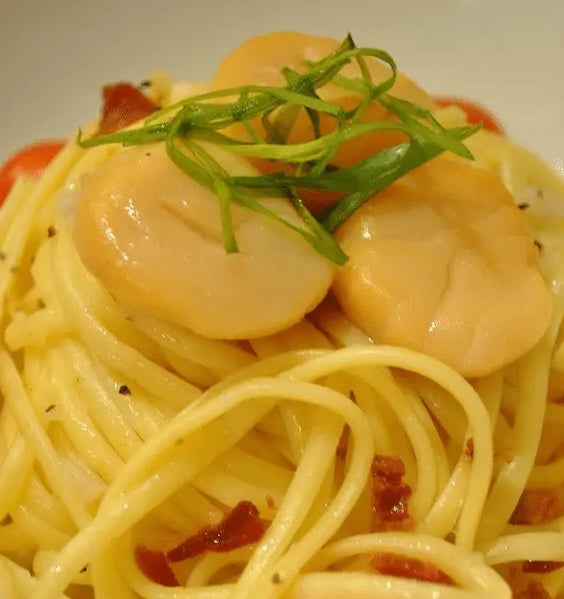 Smoked
Scallop Linguine

Recipe



Indulge in the exquisite flavors of this smoked scallop linguine recipe. Tender and smoky scallops are combined with perfectly cooked linguine, tossed in a savory sauce with shallots, garlic, and onions, and finished with vibrant cherry tomatoes, fresh parsley, and a sprinkle of Parmesan cheese. A culinary delight that will impress your taste buds.
Ingredients
4 Oz dry linguine
6-10 Scallops
2 Tbsp vegetable oil
1 Shallot - finely diced
2 Cloves garlic - minced
¼ Of a medium-sized onion - sliced
3 Tbsp white wine
2 Tbsp butter
Salt & pepper, to taste
6-8 Cherry tomatoes - halved
2 Tbsp fresh parsley - chopped
¼ Cup Parmesan cheese
Preparation
Rinse scallops, remove the abductor muscles and pat dry.
Place scallops on an aluminum tray and place in smoker preheated to 150°F with Alder bisquettes.
Smoke scallops for 30-45 minutes.
Meanwhile, bring a medium-sized pot of salted water to a boil, add linguine noodles, return to a boil and cook for 8-10 minutes (or until it is al dente), stirring frequently.
Drain pasta in a colander and run under cold water to stop the cooking process
Toss pasta in 1 tbsp of vegetable oil.
Heat the remaining tablespoon of oil in a saucepan on medium heat.
Add shallots, garlic and onions and cook until onions are translucent, approximately 3-5 minutes, then deglaze with white wine.
Add pasta and smoked scallops to a saucepan and combine.
Add butter and salt & pepper.
Serve pasta topped with fresh cherry tomatoes, parsley and Parmesan.