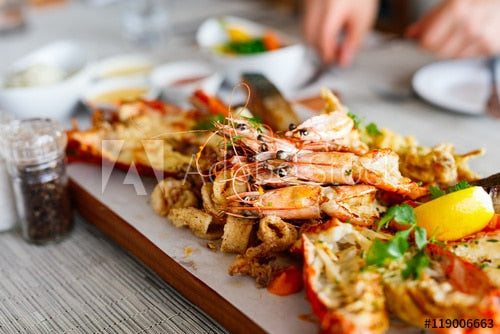 Smoked
Seafood

Recipe



Indulge in the rich and smoky flavors of the sea with our smoked seafood recipe! Whether you're a fan of salmon, shrimp, or a variety of other seafood, this dish is sure to satisfy your cravings and leave you wanting more.
Ingredients
This basic recipe is appropriate for scallops, mussels, clams, prawns, oysters and shellfish.
Cold Smoke:
Start smoke (do not turn on heat) for approximately 1-6 hours, depending on the seafood products.
Preparation
Brush shellfish with oil
Place on oiled stainless mesh racks or oiled foil punched with small holes
Sprinkle with a little salt
Check the meat of the oysters and remove any hard pieces. Thick selfish should be placed on lower racks
Smoking Method:
Preheat the smoker to approximately 80°C (175°F). Close damper.
Place prepared seafood in the middle of the smoker.
Smoke cook for 1 - 2 hours. Cooking time may vary depending on weather and wind conditions.
Rotate racks halfway through cooking time. If smoking seafood with shells, it may take a little longer. Test frequently.
Doneness Test:
When seafood is cooked, the flesh should be slightly firm and appear opaque.
Ready to Serve:
Brush oil over seafood before serving.
Hot serve: serve immediately
Cold serve: refrigerate for an hour.
Accompany with crackers or dipping sauce.