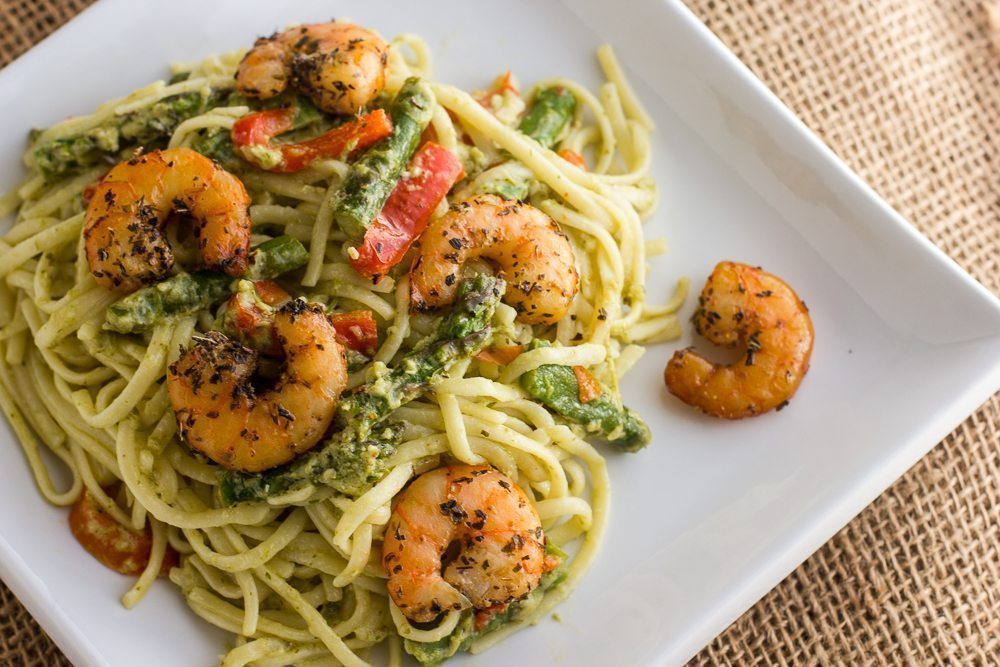 Smoked
Shrimp and Pesto

Linguine Recipe



Italian style pasta with Parmesan cheese is a good match for smoked shrimp. Try this Smoked Shrimp and Pesto Linguine recipe. It's the easiest way to prepare a fancy dinner.
Ingredients
1 Pound fresh shrimp, peeled and deveined
3 Tbsp oil, divided
1 Tbsp dried oregano
1 Tsp garlic powder
1 Tsp salt
1 Red pepper, cored and diced
1 Bunch of asparagus, chopped into 4 smaller pieces
½ Cup pesto
⅓ Cup Parmesan cheese, grated
500 g Linguine pasta, cooked according to directions
Bradley Flavor Bisquettes – Alder, Apple, or Pacific Blend
Preparation
In a large bowl, toss the shrimp with 2 tbsp oil, oregano, garlic powder, and salt.
Place the shrimp on smoker racks.
Set the smoker to 225°F using Bradley Flavor Bisquettes of choice (Alder, Apple, or Pacific Blend all work great).
Smoke the shrimp until they turn pink. This can take 30-45 minutes.
Add remaining tablespoon of oil to a skillet and set to medium heat. Add red pepper and asparagus and cook, stirring often until the vegetables are cooked.
Stir in the pesto and Parmesan and remove from heat.
Toss the cooked linguine pasta with the shrimp, red peppers and asparagus mixture.
Serve.
Recipe by: Steve Cylka