Smoked Skate Wing

with Courgette, Lemon & Mint Salad

Sandra Tate

I have to say that smoked skate wing ranks very highly in my list of favourite hot smoked products.
Ingredients
Brine:
500ml water
100g sea salt
30g soft brown sugar.
2 decent sized skate wings weighing in at 650g
(Serves 4-6 as a starter)
3 firm, medium, courgettes
Fresh mint tips
Lemon
Preparation
Quite simple the luscious white flakes of skate wing, tinged with golden smoky flavour, are very hard to beat and this late summer salad compliments the fish beautifully. I think you'll agree it makes a very elegant starter - and is so utterly simple to make.
For 2 decent sized skate wings weighing in at 650g I made a brine cure from 500ml water mixed with 100g sea salt & 30g soft brown sugar.
Immerse the wings in the brine, cover and leave for 1 hour then drain, rinse well and pat completely dry with kitchen paper.
While the wings are curing in brine, set up the Bradley Smoker to a cabinet temperature of 110°C/230°F and add Maple bisquettes to the stack.
Place the skate wings white skin side down on a Bradley wire rack and transfer to the smoker for 2 hours, or until the internal temperature is 72°C is achieved.
Remove and allow to cool before gently teasing the skate flesh from the bones with forks.
From the smoked wings you will probably have 300g-350g of smoked fish.
Take 3 firm, medium, courgettes and slice wafer thin (you will need a mandolin to do this) and drape onto plates in a decorative pile.
Scatter with some fresh mint tips and threads of lemon zest and dress with some freshly squeezed lemon juice.
Gently add a generous helping of smoked skate wing and serve with a crisp white wine! 
Maple
Wood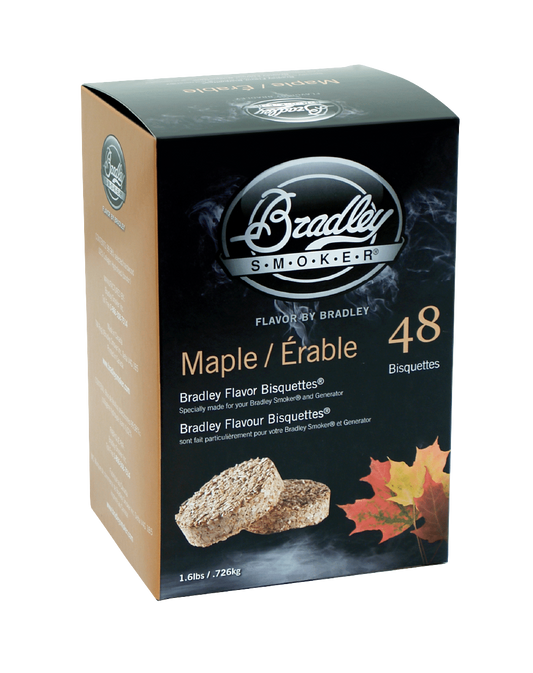 With a mildly smoky, sweet and subtle flavour, Maple Bisquettes are perfect for smoking turkeys, and enhancing the taste of poultry and game birds.
Shop Now