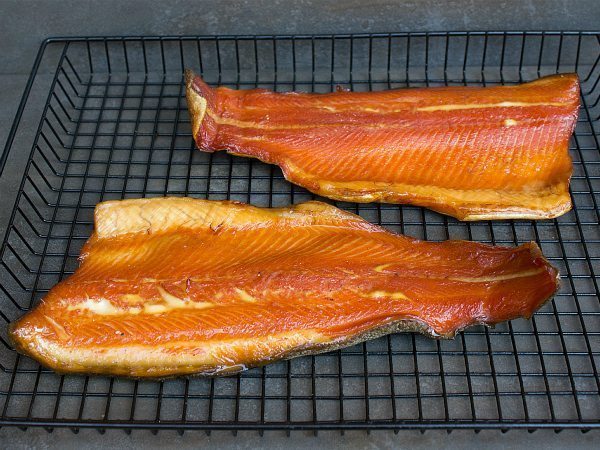 Smoked
Trout & Smoked Trout Spread

Recipe



There are so many things you can do to make a delicious meal out of smoked trout. Today's recipe gives you a step by step guidance to smoke trout. But also, to make a great trout spread. You can use that as snack on crackers, or just as a delicious healthy side to your meal.
Ingredients
For the Smoked Trout:
2½ Pounds fresh trout fillets

1½ Tbsp Bradley Sugar Cure
For the Trout Spread:
1 Brick (250 g) cream cheese, softened

⅔ Cup smoked trout (or salmon), crumbled

¼ Tsp salt

¼ Tsp garlic powder

½ Tsp paprika

⅛ Tsp cayenne pepper

1 Cup grated cheddar cheese

4 Green onions, thinly sliced
Preparation
For the Smoked Trout:
Rub the Bradley Sugar Cure evenly all over the fish. Wrap the fish in plastic wrap, or place in a large ziptop bag. Place in the fridge for 3-4 hours.
Rinse the fish thoroughly and place in a cool dry place for 1 hour to allow a pellicle to form on the outside of the fish. Use a fan to speed up the process.
Place the Trout on your smoker rack. Tip: the Bradley Magic Mats are great for smoking fish and not have the fish stick on the racks of your Bradley Smoker.
Set the smoker to 180ºF using wood Alder or Pacific Blend bisquettes.
Smoke the fish for around 3-4 hours or until the internal temperature of the fish reaches 145 F.
For the Trout Spread:
In a medium-sized bowl, mash the cream cheese with a fork or potato masher. Add the smoked trout, salt, garlic powder, paprika, cayenne pepper and grated cheddar. Continue to mash until well incorporated.
Stir in the sliced green onions. Spoon into a serving bowl.
Serve with crackers.
By Steve Cylka