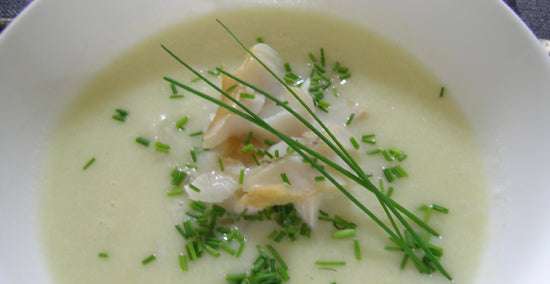 Smoking
Haddock

in the Bradley Countertop Smoker

Sandra Tate

Here is the first of our recipes composed with the Bradley Countertop Smoker in mind. It is of course possible to prepare these recipes in the current Bradley Smoker models.
Ingredients
Cullen Skink
(Serves 4)
300g Bradley smoked haddock, skin on
1 bay leaf
20g butter
1 onion, peeled and finely chopped
1 large leek, trimmed, halved & thinly sliced
2 medium potatoes, peeled & cut into 1cm dice
350ml whole milk
freshly squeezed lemon juice to taste
chives, finely chopped, to serve
Preparation
First prepare a brine by mixing 150g salt with 600ml hot water until dissolved, leave to cool completely.
Immerse 700g thick haddock fillet, skin on, in the cold brine.
Leave for 30 minutes then remove, rinse briefly, and pat dry with kitchen paper.
Place the haddock fillet on the lowest shelf of the cabinet.
Add 5 oak bisquettes to the stack of your countertop smoker.
Set the smoke only to on smoke for 1 hour 30 minutes.
Remove, allow to cool completely, then cover and refrigerate.
*This recipe is suitable for beginners
Method:
Put the fish into a pan large enough to fit the fish snuggly, and cover with about 250ml cold water.
Add the bay leaf, and bring gently to the boil.
As soon as it comes to the boil, remove from the heat and remove the fish with a slotted spoon, keep the poaching liquid.
Remove the skin from the haddock, and any bones, then lightly flake the fish.
Melt the butter in another pan over a low heat, and add the onion and the leek.
Cover and allow to sweat, without colouring, for 5 minutes until softened.
Add the potato and stir to coat with butter.
Pour in the haddock cooking liquor and bay leaf, and bring to a simmer.
Cook for 5-10 minutes until the potato is tender.
Discard the bay leaf, add the milk, some salt, white pepper and a generous squeeze of lemon juice, and process the soup with a hand blender.
Oak
Wood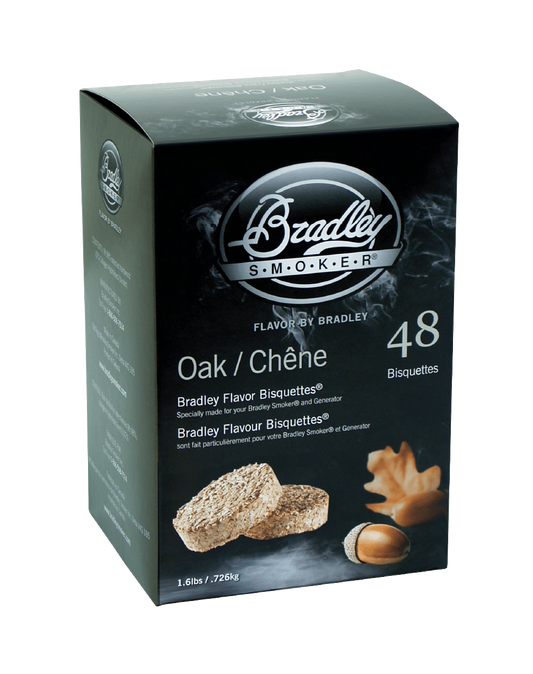 The most versatile wood of them all is Oak. Pairs especially well with poultry, beef, pork, lamb, and game.
Shop Now