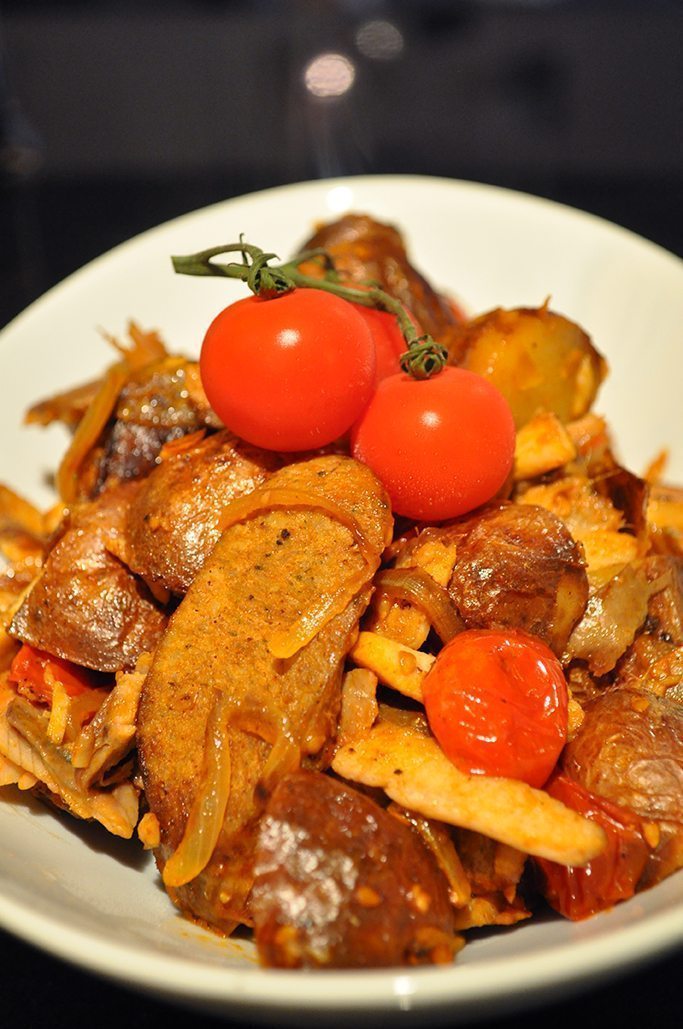 Smoked Spanish
Mackerel

Hash Recipe



This recipe uses smoked fish to create a hearty, delicious meal that could be eaten for dinner or breakfast.
Ingredients
For Brine:
½ Cup kosher salt
1 Cup brown sugar
½ Gallon water
For Mackerel Hash:
6 Whole, washed & gutted mackerels
1 Tbsp olive oil
½ Medium sized onion - sliced
2 Cloves garlic - sliced
6 Small-medium sized - cooked potatoes
1 Chorizo sausage - sliced
12 Cherry tomatoes - halved
2 Tsp paprika
1 Tbsp parsley - chopped
Salt & pepper to taste
3 Bradley Smoker Alder bisquettes
Preparation
Lightly heat brine ingredients to dissolve and let cool to room temperature.
Brine mackerel for 30 minutes.
Pat dry.
Smoke mackerel whole, skin-on in the smoker, set at the lowest setting (temperature should not exceed 100°F) with alder bisquettes for 60 minutes.
Fillet mackerels and remove all the flesh, then set aside.
Heat olive oil in a pan on medium heat.
Add onions, garlic, chorizo and potatoes.
Cook until the potatoes are crisp and the chorizo is fully cooked.
Add cherry tomatoes and cook until soft.
Add seasoning and smoked mackerel, and cook on low heat for another 2 minutes and serve.