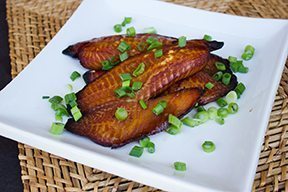 Ingredients
1 cup teriyaki sauce
2/3 cup honey
1 tbsp sriracha sauce
4 tilapia fillets
Bradley Flavor Bisquettes – Alder, Apple or Pacific Blend
Preparation
Make the marinade by mixing together the teriyaki sauce, honey and sriracha until honey is dissolved and well blended.
In a large bowl, cover the tilapia fillets in the marinade. Turn the fish to they are completely coated. Cover with plastic wrap and place in the fridge for about 2 hours.
Set the smoker to 275°F using wood bisquettes of choice (alder, pacific, apple).
Remove the tilapia fillets from the marinade and place them on a smoker rack and put the rack in the Bradley smoker. Smoke the fish until they reach an internal temperature of 145°F, about 2 hours.
If desired, sprinkle with green onions.
By Steve Clyka