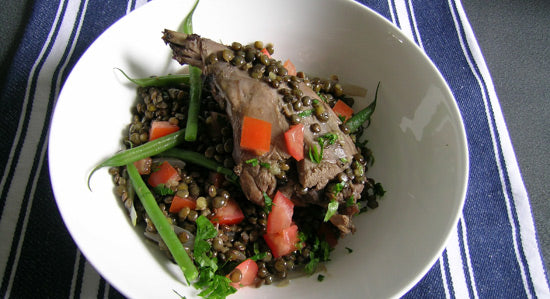 Bradley
Smoked Rabbit Leg

with Warm Lentil Salad

Sandra Tate

This newsletter is about how to smoke rabbit AND save it from disaster.
Ingredients
(Serves 2)
2 legs of smoked rabbit
150g Puy lentils
chicken stock
2 shallots, peeled & sliced
1 clove garlic, crushed & finely chopped
20g butter
1tbsp olive oil
100g fine beans
2 ripe tomatoes, seeds removed, & cut into small dice
salt, pepper
finely chopped parsley
Preparation
Things don't always go to plan. Despite good intentions we have yet to build a weatherproof shelter for our Bradley Smoker, and though sunshine was prophesied, rain arrived to stop play. So this newsletter is about how to smoke rabbit AND save it from disaster.
To begin I boiled a litre of water and scalded some fresh herbs (rosemary, thyme, winter savory) from the garden together with a crushed clove of garlic.
I mixed this with 75g salt and 25g soft brown sugar to make a brine and allowed it to cool completely.
I immersed the rabbits in this in a tight fitting container for an hour, then rinsed and dried them, pushing the herbs and garlic into the stomach cavity.
It was bright (and breezy) when I set about organising the Bradley. I loaded the stack with plenty of applewood bisquettes and got the cabinet up to 90°C/200°F intending to smoke the rabbits whole for 2 - 2½ hours or until the core temperature at the thickest part of the leg was 74°C/165°F (this is the advice for chicken so must be OK for rabbit). I have no idea how long it would have taken as rain turned up after 1½ hours and the core temperature was only 60°C. A quick warm-up of the oven indoors to 180°C saved the day.
I loosely wrapped the rabbits in foil and gave them half an hour, by which time they were perfectly cooked and still very smoky in flavour. Phew.
Editor's note: Though rabbit is a rather bland meat, smoked rabbit is altogether more flavoursome, and as such can be used in very small quantities. The outer membrane of the meat does however become quite tough whilst smoking and needs to be teased off with a small, sharp knife.  I do so love this combination of warm, nutty lentils that have taken on some of the smoky flavour of the rabbit they've been poached with - all freshened up with fine beans, tomato and herbs. Save the kidneys from the brining and smoking and instead cook them for a couple of minutes in a little butter and serve with the salad.
Method:
Cook the fine beans in boiling, salted water for 5 minutes to tender, drain and set aside. Melt the butter in a saucepan pan over gentle heat and cook the garlic and shallot for 3 minutes to soften (do not allow to colour).
Add the Puy lentils and enough chicken stock to generously cover them, bring to the boil and then lower to a simmer.
After 5 minutes, add the smoked rabbit legs to the pot and continue simmer for a further 10-15 minutes.
Check that the lentils are tender (the rabbit will have been heated through) and cook for a couple of minutes longer if necessary.
Season with salt and pepper to taste and remove from the pot with a slotted spoon to an awaiting bowl.
Now add the olive oil, chopped tomato, fine beans and parsley, turning with a spoon to lightly mix the salad ingredients.
Divide between deep bowls and serve with crusty bread.
Apple
Wood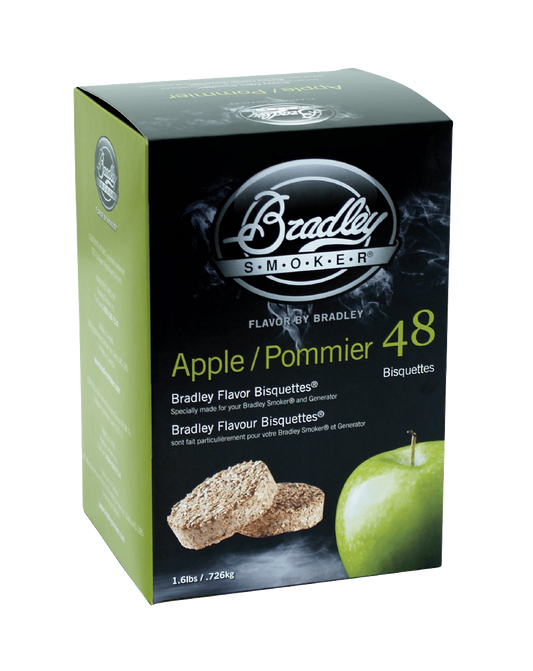 A light, fruity and slightly sweet smoke aroma that pairs with poultry, beef, pork, lamb, and cheese.
Shop Now