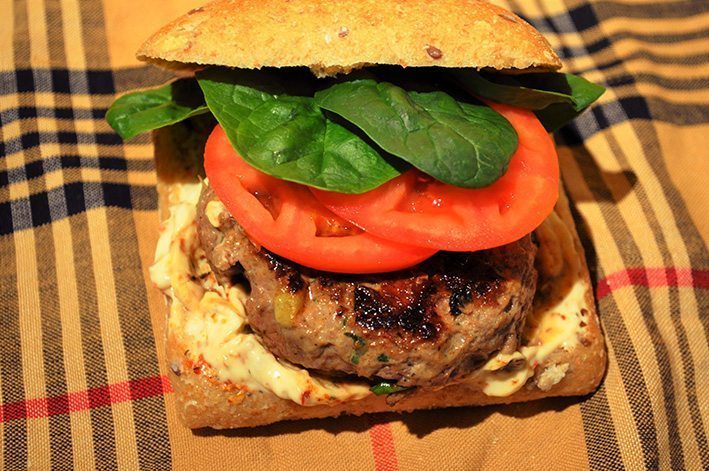 Smoked Moroccan
Lamb Burgers

with Harissa Mayo



A juicy lamb burger with Moroccan spices and jalapeño, topped with spicy Harissa mayo. Try this burger stuffed into a pita bread for a change from the usual burger bun. Add your favorite toppings, or keep with the Moroccan theme, and top with black olives and feta.
Ingredients
For the Smoked Burgers:
1¾ lb freshly ground lamb (I used shoulder meat)
1 egg
½ yellow onion, minced
3 green onions, sliced
3 cloves garlic, minced
3 Tbsp cilantro, chopped
1 jalapeño, seeded and minced (Or unseeded if you're like me and like it spicy!)
¾ tsp paprika
1 tsp cumin
½ tsp cinnamon
1 tsp salt
1 tsp pepper
For the Harissa Mayo:
5 Tbsp mayonnaise
4 tsp Harissa spice mix
1 clove garlic, minced
Bradley Smoker Oak Bisquettes
Preparation
Combine freshly ground lamb with onion, green onion, garlic, cilantro, jalapeño and spices, and mix thoroughly.
Form into six patties.
Preheat the smoker to 200°F, and use oak bisquettes.
Cook burgers in the smoker until an internal temperature of 160°F is reached.
While burgers are smoking, prepare Harissa Mayo by mixing together all three ingredients.