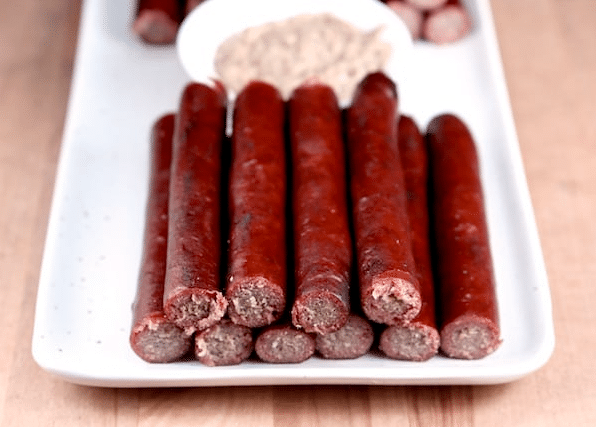 Smoked Cheesy
Venison

Sticks



Just want to share my Smoked Cheesy Venison Snack Sticks recipe along with some help from good old Mr. Bacon and Hi Mountain Spice Kit. For this recipe, you can use any cheese instead of high temp, as long as you do not set your smoker to go over 190 degrees. Remember that high temp cheese is expensive. Some people may think this is hard to stuff, but I didn't think so. I used a gander mountain 5# vertical stuffer and it's a lot easier if you have some help. I vacuum pack mine and put them in the refrigerator to enjoy whenever. I can tell you that they stay good for 4 months in the fridge. But I'm not sure if they last longer, because they get eaten soon in our home. Hope you give that a try sometime on your next (or first) smoking.
Ingredients
8 lbs of venison
2 pounds of Kunzler Original Bacon (Salt, Sugar, Sodium Phosphate, Sodium Erythorbate, Sodium Nitrite)
Mix both through a meat grinder
4 jalapeño peppers (without seeds) chopped finely
16 oz of your favorite shredded cheese (in a separate bowl)
2 1/2 cups water
2.5 teaspoons of hi mountain seasoning per POUND = 20.5 teaspoons
2 teaspoons of hi mountain cure per POUND = 20 teaspoons
Preparation
Pour dissolved liquid mixture over top of the meat and mix.
Stuff in collagen casing
Place in the refrigerator from 4 hours to 24 hours (there's more than enough cure in this to allow for immediate smoking)
Cooking/Smoking:
Allow sticks to reach room temperature
Set Bradley digital to 130 degrees F (54.4C) and allow sticks to dry for 2 hours in the cabinet (without a water bowl)
Bump the temp to 145 to 150 F (62.8C to 65.5C) and begin smoking with cherry bisquettes for 2 hours (with a water bowl)
Bump the temp to 160F (71.1C) and cook for another 2 hours
Bump the temp to 170F (76.7C) to 180F (82.2C)
Insert your thermometer probe into the top 1/3 of a snack stick (not too high and not too low)
Continue cooking until you get a reading of 155F (68.3C).
At that point, pull them and let them sit at room temperature for 1-2 hours (it will continue cooking to 160F).