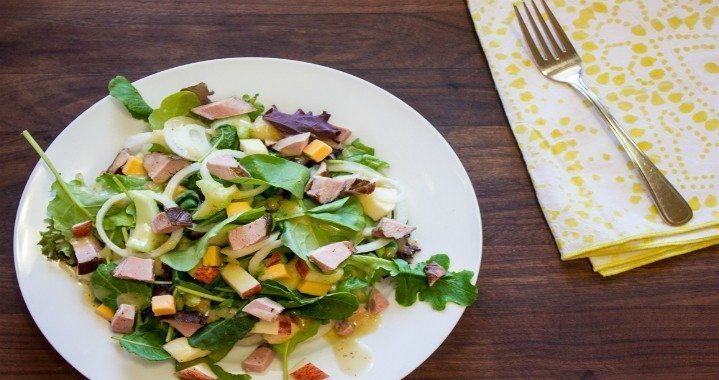 Smoked
Duck With Apple Old Cheddar

And Mixed Greens Salad



Try this Smoked Duck with Apple, Extra Old Cheddar and Mixed Green Salad. It is a healthy and delicious way to eat vegetables. After you smoke the duck breasts, there is not much left to do. Just toss the cubed meat in a large bowl, and place some mixed greens on a plate. Top with celery, apples, onions and cheddar. Drizzle with salad dressing before serving.
Ingredients
2 Boneless duck breasts
6 Cups mixed greens
3 Celery Stalks, sliced
2 Apples (royal gala, red delicious), cured and cubed
1 Sweet onion, thinly sliced
1 Cup extra old cheddar, cut into ½" cubes
½ Cup salad dressing (sweet onion or poppy seed)
Bradley Flavor Bisquettes – Cherry, Maple, Pecan, or other fruit woods
Preparation
Place the duck breasts on a smoker rack.
Set the smoker to 250°F using Cherry, Pecan, Maple or other bisquette flavours of your choosing.
Smoke the duck for around 2½ – 3 hours or until the internal temperature of the meat reaches 150°F.
Place the duck in a fridge to chill. Once cold, peel back the skin and cut into small cubes.
Assemble salad by placing some mixed greens on a plate. Top with celery, apples, onions, cheddar, and cubed duck. Drizzle with salad dressing.
Serve.