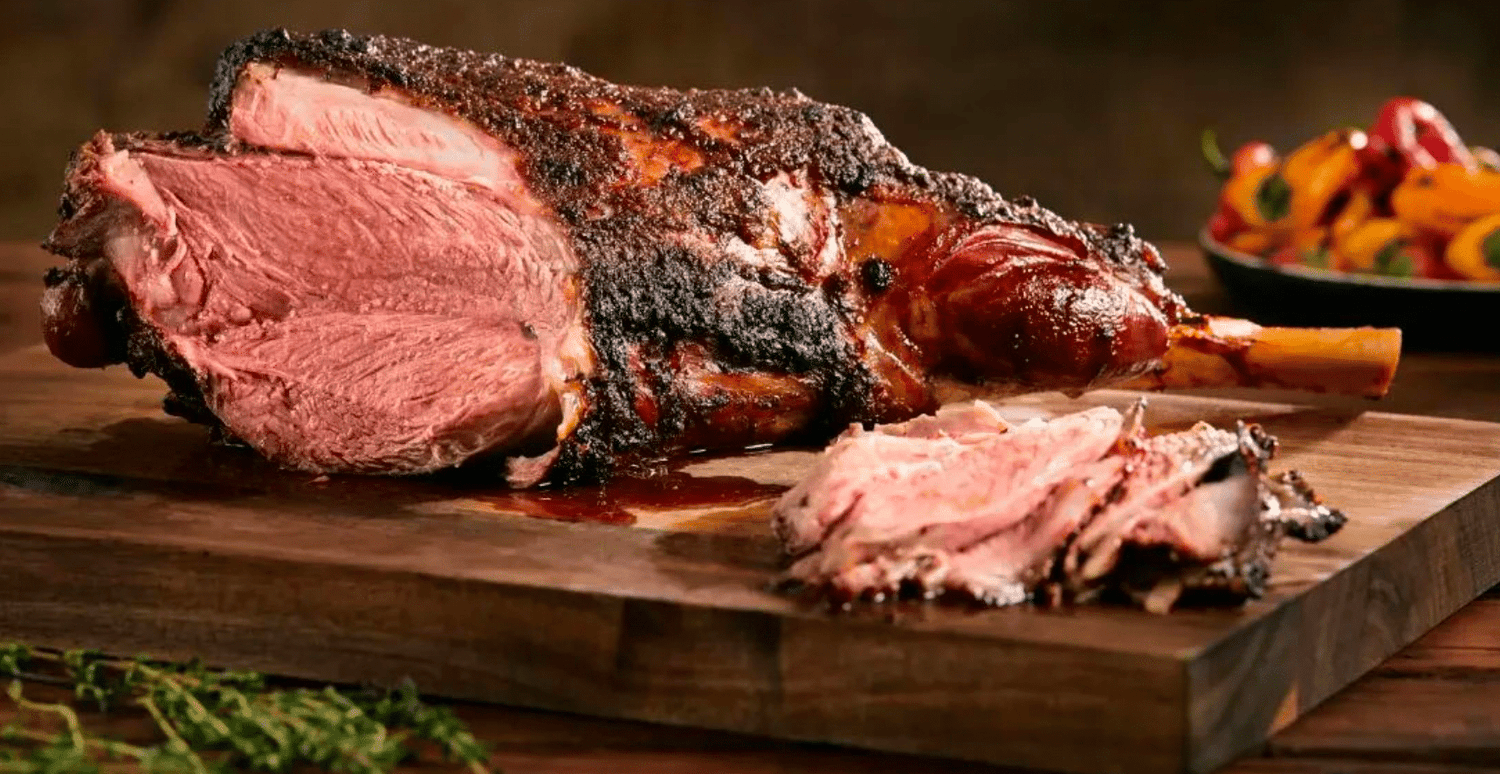 Smoked New Zealand
Leg of Lamb

Recipe



This Smoked New Zealand Leg of Lamb Recipe is the result of a lot of research. I checked the forum, and came up with a tip or two. Then, I also checked Jamison's S&S for recipes and a third source as well. It was one of Wolfgang Puck's cookbooks (yep, the Hollywood guy). In a nutshell, I combined the tips, and a couple of different recipes and came up with something that was the best lamb either myself, my wife or some friends that we had over for dinner, had ever had.
Ingredients
Marinade:
1 Cup olive oil
10 Cloves of garlic chopped
¼ Cup soy sauce
1 Cup apple cider (Old Wolfgang recommends pomegranate juice, but said to use cider as a backup)
3 Tbsp of sea salt
A few shakes of ground pepper
Preparation
Mix the marinade ingredients together and rub them into the leg of the lamb.
Use a baster to get the marinade into the cavities, but don't cut the string holding the roast together.
Place the lamb in a gallon-size ziplock bag, or equivalent, pour in the rest of the marinade and throw it in the fridge at least overnight.
The next day, preheat the smoker to about 200ºF, and put in 2 hours of pecan and 1 hour of apple pucks.
Take the lamb out of the bag and put it, with the marinade particles still stuck to it, into the smoker.
Smoke the lamb until the internal temp is 140ºF (about 3 - 3 ½ hours).
Note: I put a round metal cake pan under the lamb to catch drippings for gravy, and it worked like a charm.
Put the lamb on the second rack space from the top, and put the pan 2 rack spaces down. The flow of the smoke did not seem to be affected in the least.
When the temp hits 140ºF, take the lamb out and dutifully wrap it in foil, then a towel, and put it in a cooler.
Take the drippings from the pan in the smoker and put them in a saucepan.
Add chopped onions, cook until they are soft and add a bit of milk with the cornstarch in it to make a gravy.