Smoked Pigeon Breast

, Pancetta & Salted Caramel Walnut Salad

Sandra Tate

Not yet time to give up the salads but now we get Autumnal! Pigeon packs a serious taste punch but also benefits from a whiff of smoking, then married with the salt-sweet taste of these walnuts it is something sublime.
Ingredients
1-2 breasts per person
100g walnut halves
20g butter
25g sugar
Salt and Pepper
Pancetta
Butter
Preparation
Here in Totnes pigeon is available from all three of our High Street butchers but I opted to buy from the one who dispenses with the tougher parts of the bird and sells pigeon breasts in packs of 2, 4 or 6.
Pigeon can so very easily become tough and dry from overcooking and ideally should be served very pink. I therefore opted to cold smoke my pigeon breasts to give it outer flavour before cooking.
Pat dry the pigeon breasts - allowing 1-2 breasts per person - and arrange on a Bradley Smoker wire rack, well spaced to ensure all over smoking.
Set up the smoker to cold smoke and add oak bisquettes to the stack.
Almost close the top vent and allow the cabinet to fill with smoke before placing the rack of breasts in there for 20-30 minutes.
Remove and set aside.
Make your salted caramel walnuts by dry roasting 100g walnut halves over low to medium heat for 5 minutes then turn up the heat and add 20g butter and 25g sugar, moving everything around to coat.
Both butter and sugar will quickly foam and as soon as the sugar begins to caramelise remove from the pan onto a cold plate, now add salt immediately to taste.
Grill some pancetta to crisp and set aside also.
Take the smoked pigeon breasts, slicing each into 3 nuggets, season with salt and pepper, and pan fry in foaming butter over medium/high heat until browned all over (this will take no more than 2-3 minutes).
Cover and allow to rest for 6 minutes.
Now arrange wild rocket and radish/alfalfa sprouts in the centre of each plate, surround with salted caramel walnuts and then carefully add pigeon pieces, pancetta and a few drops of pan juices.
Serve immediately. 
Oak
Wood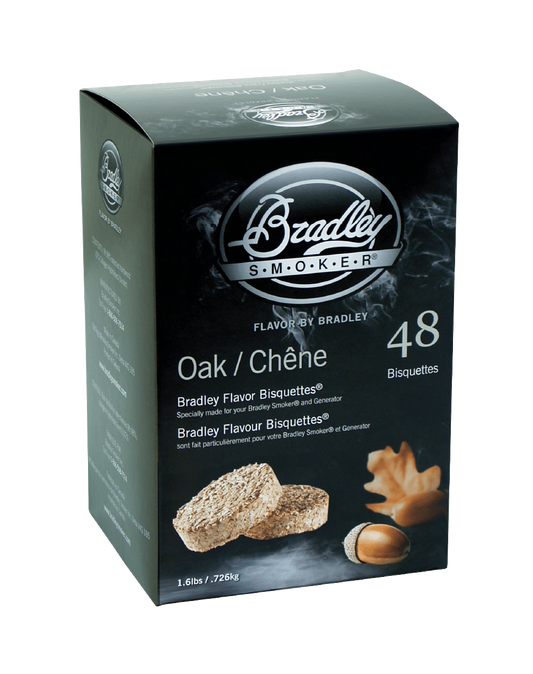 The most versatile wood of them all is Oak. Pairs especially well with poultry, beef, pork, lamb, and game.
Shop Now