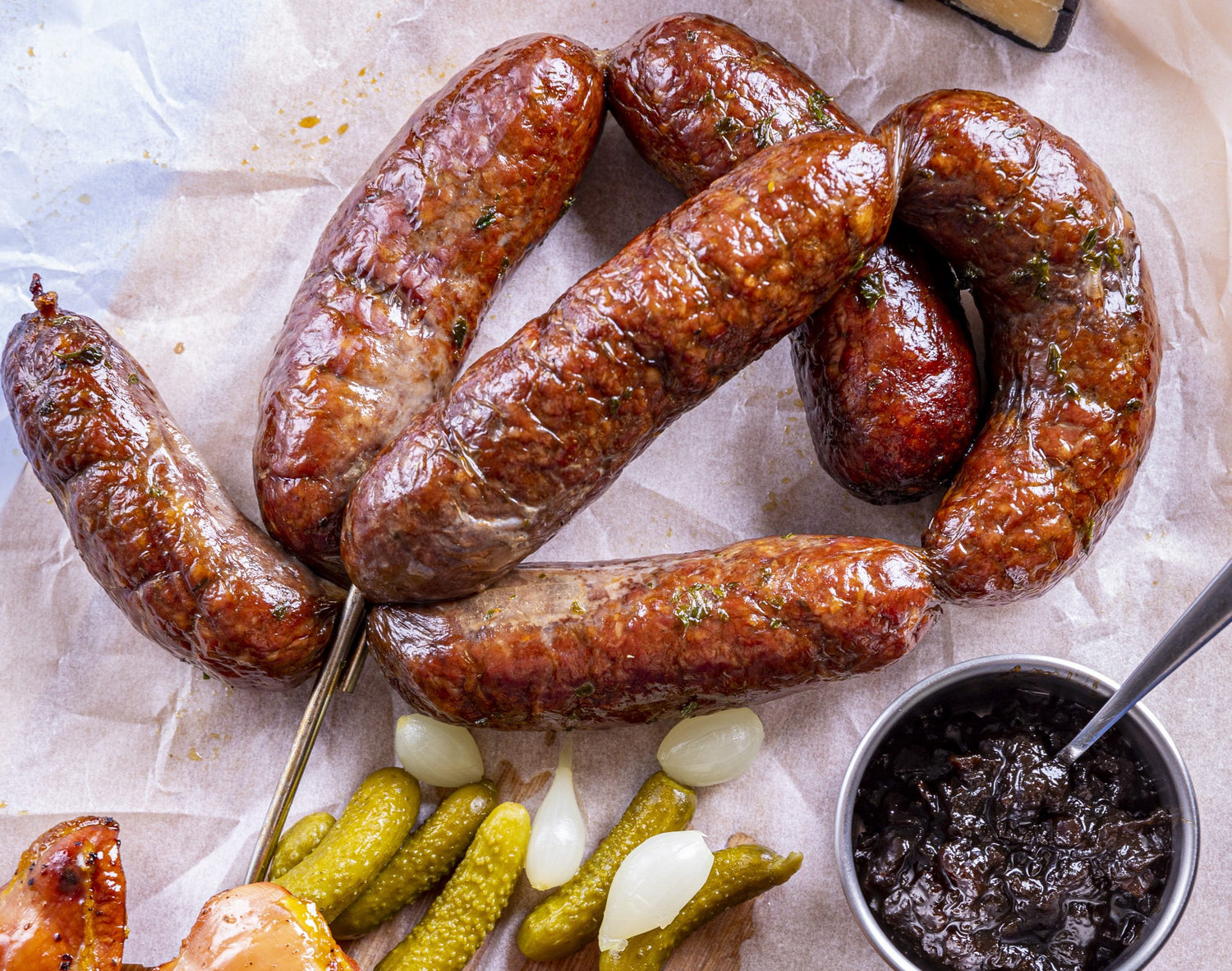 Venison and Jalapeno
Smoked Sausage
Dan Shahin

by Cai Ap Bryn from @gameandflames
Ingredients
2.5kg Venison
1.5kg pork belly
150g of finely chopped jalapeno
200ml water
2 tablespoons salt
1½ tablespoons onion powder
1 tablespoon paprika
1 tablespoon freshly ground black pepper
½ teaspoons cayenne pepper
1½ teaspoons dried sage
1½ teaspoons dried thyme
¾ teaspoon garlic powder
¾ teaspoon mace
1 teaspoon of sugar
¾ teaspoon allspice
¾ teaspoon nutmeg
Preparation
Method:
Making the sausage:
Dice up the meat into cubes, and run through the meat grinder.
Mix the spices through the mince with your hands, not the jalapenos these will be used later.
Place through a meat grinder again, this helps to ix the spices deeper into the meat.
Add your chopped jalapenos and mix again thoroughly.
Place in the sausage stuffer, using natural hog skins run them through and tie them off. You must remember to keep everything very cold.
To smoke:
I use the Bradley Digital 4 Rack Smoker. Works a treat for a small batch for home use. I can hang about 12 decent sausages comfortable from the top, probably could do more but 12 does me and my family nicely.
For this recipe I used the maple briquettes not too strong just a nice light smoke and flavour to compliment the sausages, I loaded the Bradley up with 3 hours worth (9 briquettes) I then set the smoker to 120C
Enough heat to give the sausages a nice colour and enough time to take on that smoke flavour.
For this recipe I smoked them for around 2.5 hours until we get to 75c int temp, set them to rest for 5 minutes before serving. Sometimes the cook can be quicker, it is always worth keeping check of the temperature using a probe. If you cook them for too long this can dry up the sausages.