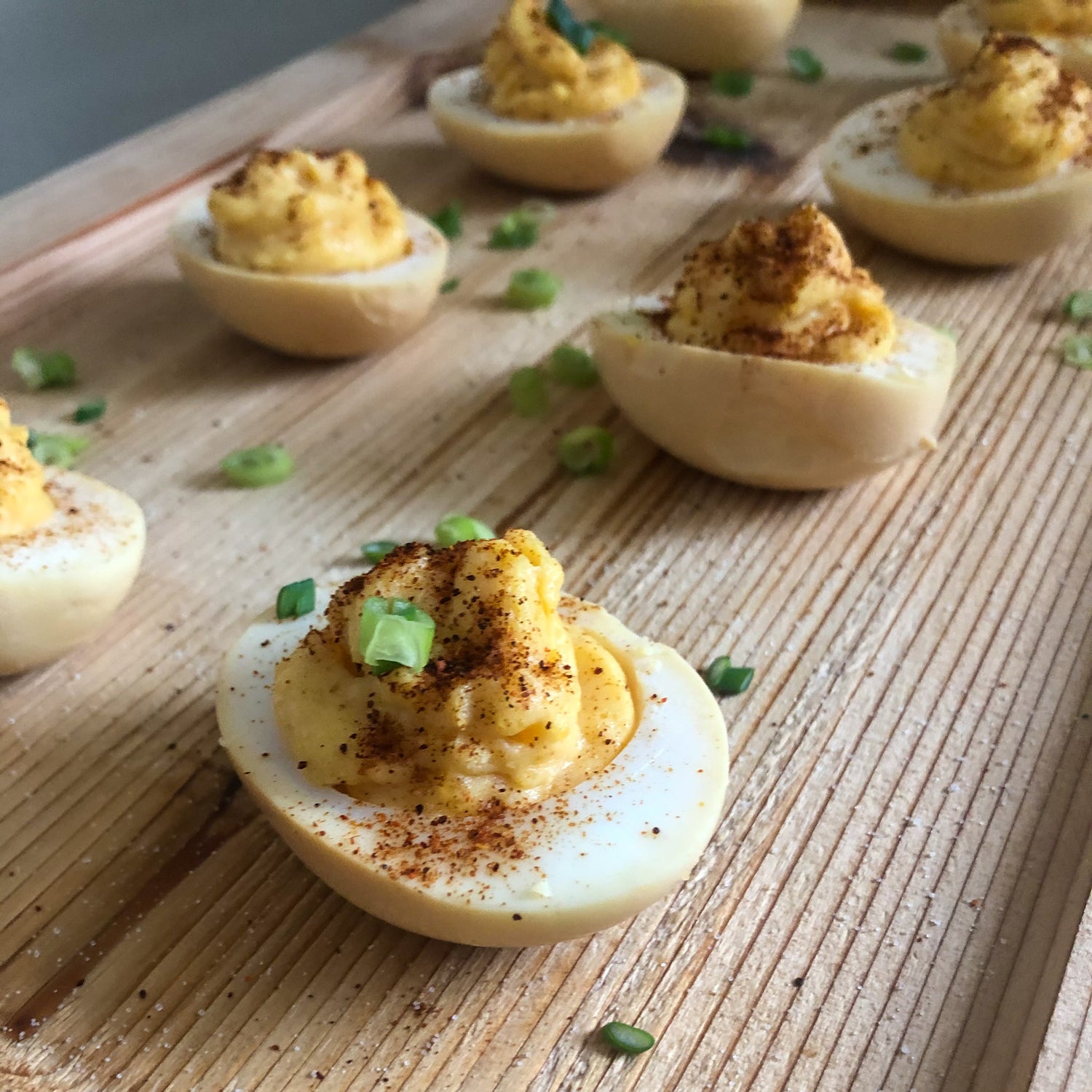 Cold Smoked
Devilled Eggs
Dan Shahin

Smoked deviled eggs are a show-stopping twist on an old classic.
Ingredients
4 tablespoons of mayonnaise
1 ½ teaspoon of English mustard
¼ teaspoon of chili powder (or paprika)
3 drops of tabasco sauce
2 tablespoons of extra virgin olive oil
2 tablespoons of freshly boiled water
1 teaspoon of sea salt flakes (to taste)
2 teaspoons of finely chopped chives
12 large eggs
Preparation
Method:
Bring a large pot of water to a boil, one that is big enough to hold 12 eggs on their sides, and once boiling, gently lower the eggs into the water one-by-one. Bring back to a boil, then set a timer for 10 minutes.
Prepare an ice bath for the eggs. If you do not have any ice, simply place the pot under cold running tap water immediately after they have cooked. Allow the eggs to cool completely. Then, gently peel the eggs, and use a paper towel to pat them dry. If they are wet, the colour from the smoke will not stick evenly to the eggs.
Prepare your Smoker for use with the Cold Smoke Adaptor and select your Bisquettes, (we used Chilli Cumin.) Now place your eggs in the smoker for 2-4 hours, depending on how smokey you'd like them to be. 
When they have finished smoking, slice them into halves, lengthwise. Using your fingers, delicately remove the yolks and place them in a bowl. Select your best-looking egg white halves and place them on a serving platter, ready for re-filling. You will need more yolk than whites if you would like them to be filled above the brim, so do not worry about snacking on the less-than-perfect whites while waiting for the final product!
In the bowl of cooked egg yolks, add the mayonnaise, the English mustard, the salt and paprika, and a few drops of tabasco. Stir well and mash with a fork. If you have a stick blender, give it a blitz. Add the oil and blitz again until it becomes thick and smooth in texture. You may want to taste it at this point and add any more seasoning it may need. Proceed slowly, adding a little at a time and tasting as you go.
If you have a piping bag, fit it was a star nozzle, but in a pinch, a Ziplock bag will do. Spoon in the mixture, packing it right down to the bottom of the bag. Now fill the hollowed-out egg whites with the yolk mixture in the piping bag.
Sprinkle with a light dusting of chili powder (or paprika) and garnish with chives.
Serve immediately.
Chili Cumin
Blend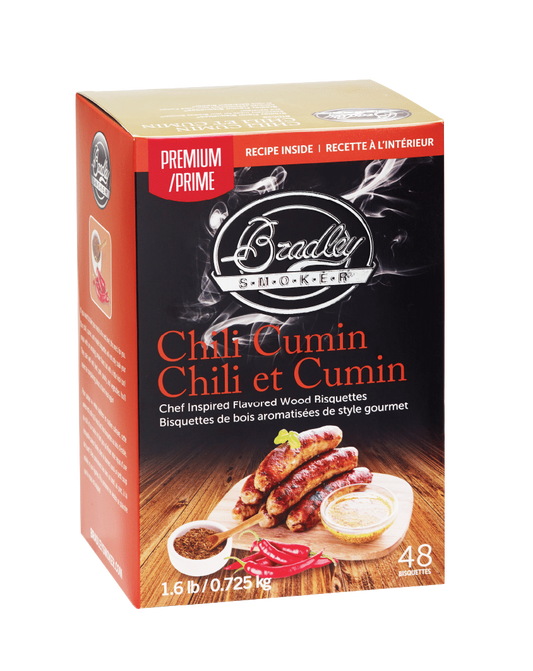 Chili Cumin Bisquettes add a warm smoky flavour with a little kick to your food. Pairs well with beef, pork, poultry, and vegetables.
Shop Now