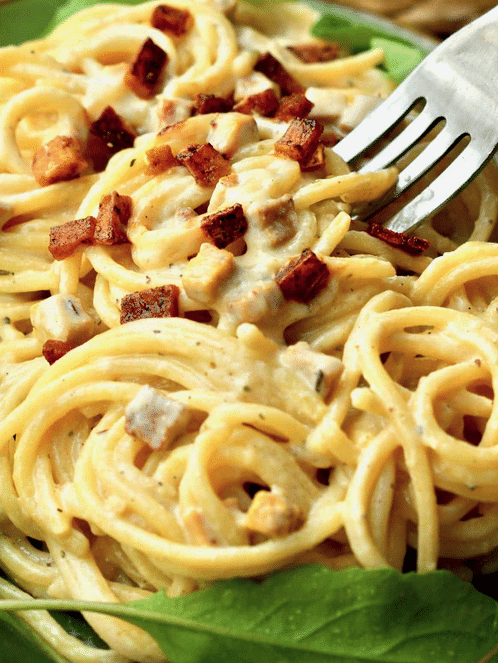 Smoke & Herb
Carbonara

Recipe



This creamy pasta recipe is an easy recipe to make when you are quite hungry. It is super filling and has a great combination of such delicious flavors.
Ingredients
500 G spaghetti
3 Garlic cloves - minced
3 Bunches of rosemary - cleaned & minced
1½ Cups Pecorino Romano - finely grated
3 Raw eggs
Mug for pasta water
Fresh black pepper
Preparation
(The pork cheek is normally just cured for Guanciale but it's such a fatty cut it takes smoke amazing. You get crispy, sticky pops of smoky rendered bacon throughout the rich emulsified pasta sauce, a nice depth from the toasted Garlic and perfume of Rosemary that brightens up the whole dish. The Rosemary works so well with the Porkyness, tangy Pecorino, and fresh Black pepper.)
Slice up your guanciale and put it into the Bradley Smoker to cold smoke for 2 hours in Apple Wood. Cube it together and into a cold cast iron pan. Everything else is prepared beforehand, the pasta comes together very quickly.
Render the Guanciale into lardons, once they're nice and brown, turn off the heat and remove some of the fat. Put the pasta into a large pot of salted boiling water. Right before the pasta is ready, turn the pan burner back on to fry the lardons again so they get crispy, add the minced garlic and rosemary to toast at the last minute so as not to burn. Scoop out a mug of pasta water to save for the side.
Put the pasta into the pan, mixing with a bit of pasta water, then the cheese and eggs, adding more pasta water, mixing continuously so as not to scramble the eggs on the hot pan, and to get a smooth emulsified sauce. Finished with lots of coarse fresh cracked black pepper and garnished with more pecorino.
Recipe by: beefbaecon