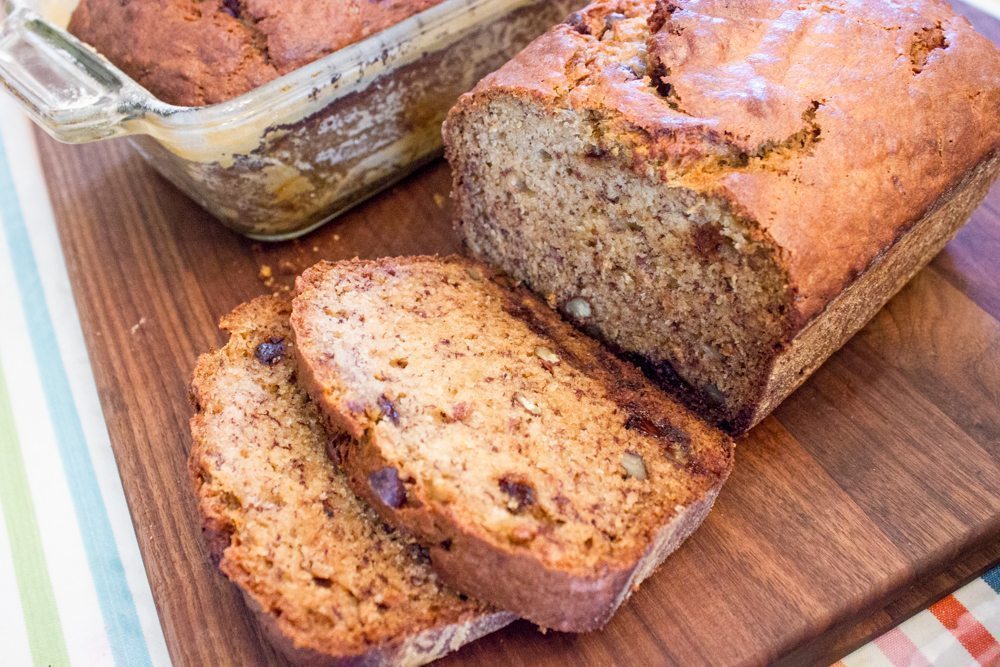 Smoked
Banana Bread

with Chopped Pecans and Chocolate Chips Recipe



Healthy, delicious, quick and easy to make. This recipe gives you a great opportunity to use those ripe bananas nobody wants to eat anymore.
Ingredients
5 Ripe bananas
2 Cups all-purpose flour
1 Tsp baking soda
¼ Tsp salt
½ Cup oil
¾ Cup brown sugar
2 Eggs, beaten
⅔ Cup pecan, or walnut pieces
⅔ Cup chocolate chips
Bradley Flavor Bisquettes – Alder, Apple or Cherry
Preparation
With the skin still on the bananas, slice them lengthwise. Place the banana halves, skin side down on your Bradley Smoker racks.
Set the smoker to 250°F using mild wood bisquettes such as alder, apple or cherry.
Smoke the banana halves for 30 minutes. Remove from smoker and cool to room temperature. Remove skins from the bananas and mash them with a fork.
Preheat oven to 350°F.
Grease a loaf pan, then shake 1 Tbsp of flour around the loaf pan to coat the grease with flour.
Sift flour, baking soda and salt in a bowl. Set aside.
Beat remaining ingredients until mixed well. Fold flour (and optional nuts/chocolate chips) into wet mixture until flour is just moist (do not mix with mixer or the bread can become too dense).
Pour into loaf pan and bake for 65-75 minutes or until a toothpick inserted in the center comes out clean.
Cool on wire rack.
Recipe by: Steve Cylka