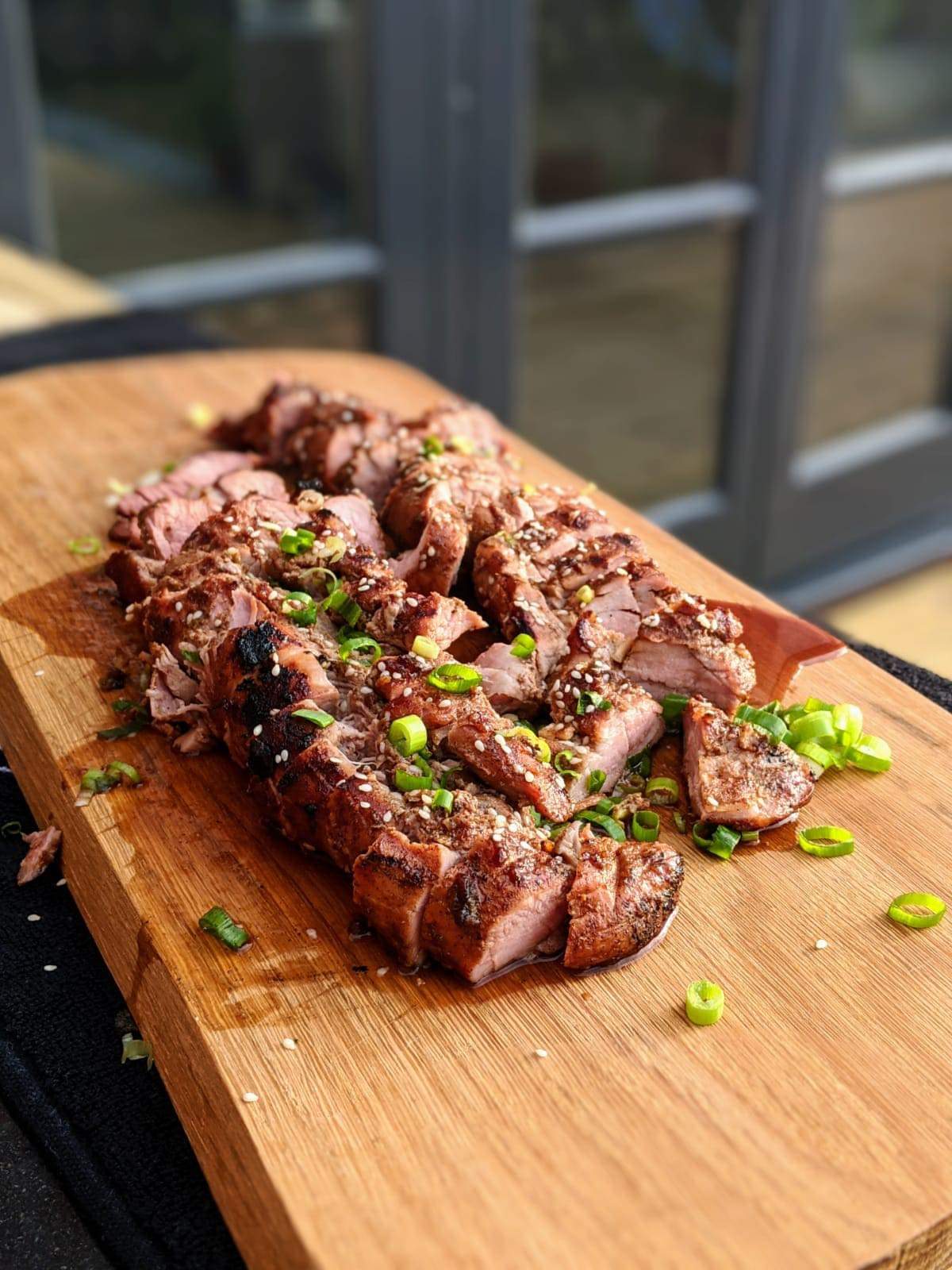 Asian Style
Pork

Loin

Hugh Goldsmith

Smoked Asian-style pork loin marries the best of two worlds: smoky, tender meat and bold, exotic flavours. The pork's subtle smokiness blends harmoniously with a medley of Asian-inspired spices and sauces, creating a mouthwatering fusion that will transport your taste buds on a delicious culinary journey.
Ingredients
2 x Pork tenderloins (pork fillet) around 500g (1.1lb) in weight.
Marinade:
1½ teaspoons Chinese five-spice powder
4 tablespoons of hoisin sauce
2 teaspoons of sesame oil
2 tablespoons of clear honey
Thumb-sized knob of ginger grated
2 Crushed garlic cloves
4 x Spring onions (green onions) finely sliced
Garnish:
4 x Spring onions (green onions) finely sliced Sesame seeds
Preparation
Take the pork tenderloins and trim off any silver skin that is present.
Take all the remaining ingredients and mix them together to form the marinade.
Place the pork tenderloins into a tray and make sure all the surfaces are coated in the marinade. Cover the tray and put in the fridge for at least two hours but preferably overnight. Turn the pork once during the marinading period to ensure good coverage.
Smoking Method
Heat your smoker to 230f (110c), whilst the smoker is heating up remove the pork from the fridge to come up to room temperature.
Smoke your tenderloins using Bradley Sesame and Ginger Bisquettes until the pork reaches an internal temperature of 145f (63c).
When up to temperature remove the tenderloins from the smoker and slice into 1/2 inch (12.5mm) slices and garnish with the sliced spring onions and sesame seeds.
Serve with a side dish of your choice. I had mine with a Vietnamese rice salad, but noodles or fried rice would also be great!
Recipe by Bradley Smoker community member Hugh Goldsmith – thanks!
Ginger
Sesame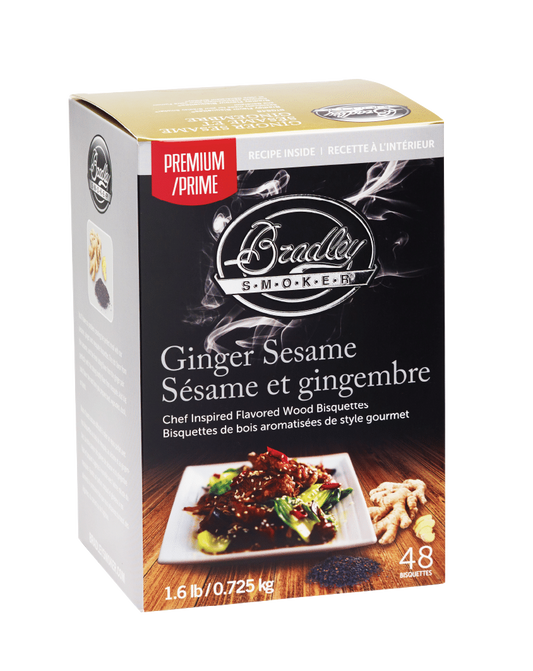 Our sesame, ginger, and mesquite Bisquettes add big bold flavour the next time you prepare beef, vegetable, duck, or lamb.
Shop Now