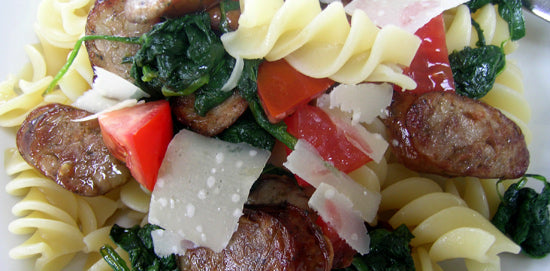 Bradley
Smoked Italian Sausage

, Spinach and Fresh Tomato with Pasta

Sandra Tate

For utter simplicity and maximum flavour this is difficult to beat.
Ingredients
(Serves 4)
6-8 Bradley smoked Italian sausages
500g dried or fresh pasta (pictured here with fusillini)
2 tbsp olive oil
4 medium, ripe, fresh tomatoes - cut into large dice
150g young spinach leaves, parmesan shavings to serve, salt and pepper
Preparation
Most of the large supermarkets offer 'Italian style sausages' in their sausage ranges - this means they've seasoned them with garlic, fennel seed and a touch of chilli - and jolly good they are too. So I gave them some added Bradley Smoker flavour as well. 
*This recipe is suitable for beginners
The sausages aren't cured in any way, simply hot smoked.
Set the Bradley Smoker cabinet to 100°C and add ten, or so, oak bisquettes to the stack.
Place the fresh sausages onto racks (I smoked two racks of sausages and stored some in the freezer aferwards) and make sure they are spaced well and not touching (this will allow free movement of smoke to all areas).
Smoke for 2-3 hours, depending on how strong you want the smoke flavour, and check that you have a core temperature of 68°C or more.
The outside of the sausages becomes gloriously red/orange with the smoke.
Remove, allow to cool and refrigerate until needed.Remember, they have no cure so you should eat them within a couple of days (or freeze them). Slice thinly for sandwiches if you want to use them cold, or cut them into chunks for the following tasty supper.
Method:
Cut the smoked sausages into chunks and add to a large sauté pan together with the olive oil, shallow fry for a couple of minutes then add the diced tomato.
Lower the heat and cook for a further 3 minutes then raise the heat, add the spinach and some seasoning and cook for 1-2 minutes or until the spinach has wilted.
Remove from the heat and keep warm.
Bring a large pan of water to the boil, add a tablespoon of salt and the pasta.
Cook as per the packet instructions, drain and divide between warmed pasta bowls.
Divide the warm sausage, tomato and spinach between bowls and add a good grinding of black pepper and some Parmesan shavings.
Serve immediately.
Oak
Wood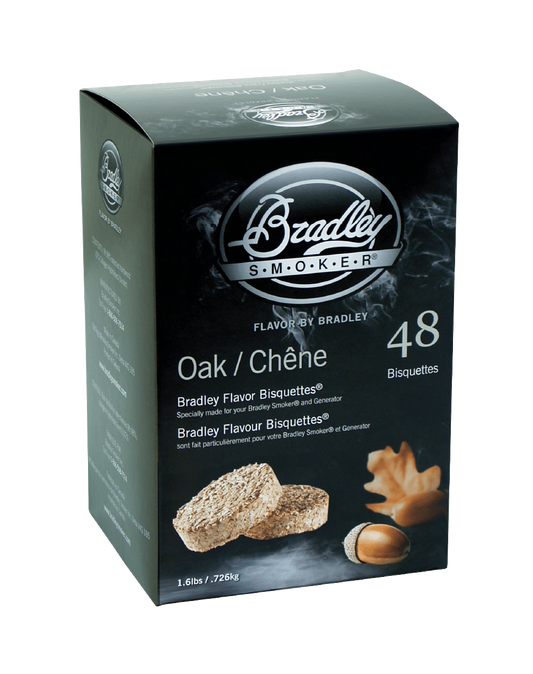 The most versatile wood of them all is Oak. Pairs especially well with poultry, beef, pork, lamb, and game.
Shop Now