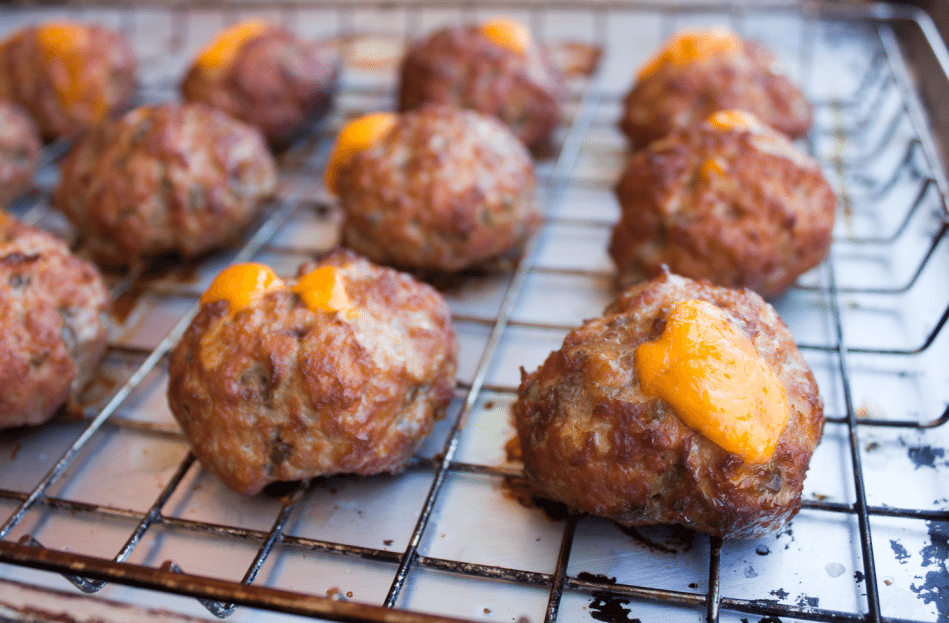 Cheddar Jalapeño Smoked
Pork Bites

Recipe



These Smoked Pork Bites filled with Cheddar are easy to make and will impress your guests. You can't go wrong. Just a few ingredients and you have a perfect treat for snacks, parties or tailgates.
Ingredients
2 Pounds ground pork
2 Tbsp creole seasoning
1 Egg
1 Cup bread crumbs
⅓ Cup milk
⅓ Cup BBQ sauce
3 Jalapeño peppers, cored and minced
150 G medium cheddar cheese, cut into ½ inch cubes
Preparation
Set the smoker to 250°F using wood bisquettes of choice.
In a small bowl, mix together the ground pork, creole seasoning, egg, bread crumbs, milk, BBQ sauce and jalapeño peppers, until thoroughly combined.
Grab a small handful of the meat mixture and form a meatball that is about 1 ½ inches in size. Make a small indentation in the middle, with your thumb. Press a cube of cheddar cheese into the indentation and fold the meat around the cheese, so that it is covered. Using your two hands, roll the meat around so that it is fairly round. Place the meatball on the Bradley smoking rack. Do this with the remaining meat and cheese.
Place the smoking racks in the Bradley smoker. Smoke the meatballs until they reach an internal temperature of 160°F, about 2 ½ hours.