Cure,
Smoke

, Boil, Glaze & Bake....

Sandra Tate

Gammon at Christmas has to be there for light lunch, sandwiches or a cold cuts platter.
Preparation
I'm not a huge fan of gammon as a main course but at Christmas it has to be there for light lunch, sandwiches or a cold cuts platter. This small joint will cover that, and is the perfect beginners' project for curing and smoking.
A modest joint of pork weighing in at up to a kilo can be dry cured in 4-5 days and makes this project ideal even for a novice.
CURING:
For 1kg joint of pork (trimmed of rind, tied and preferably not thicker than 7-8cm) you will need a cure of 25g brown sugar, 50g curing salts, and an optional 5g pickling spices, lightly crushed. Mix all of these together and rub into the surface of the meat on all sides, pushing into crevices, and wrap tightly in several layers of cling film before placing in the bottom of your fridge. Leave for 5 days then unwrap (you will find that the pork is deeper in colour due to the curing salt and the dry cure is now sticky/wet) then rinse thoroughly and pat completely dry with kitchen paper.
COLD SMOKING:
et up the Bradley Smoker with cold smoke attachment. Add plenty of apple wood or oak bisquettes to the stack. Let the cabinet fill with smoke before transferring the pork joint to it on a Bradley wire rack. Cold smoke for 2-3 hours, depending on your own personal taste for degree of smokiness.
BOILING:
To cook the joint it is good to simmer it gently in sufficient water to cover the joint. Once you have brought the pan to the boil, lower to a gentle bubbling simmer and allow 20 minutes/500g weight of meat.
GLAZING & BAKING:
While the joint is simmering, preheat the oven to 180°C/350°F. Make a glaze by melting a rounded tablespoon of marmalade in a pan together with a clove of garlic, peeled and crushed to pulp. Remove the joint of gammon from the pan and dry on kitchen paper. Transfer to a small roasting dish and brush with marmalade glaze and then bake for 25 minutes/kg weight of joint. By now it should be colouring and smelling very good indeed. Allow to cool completely before slicing thinly. You will find that the sweet, smoky flavour is quite irresistible!
Apple
Wood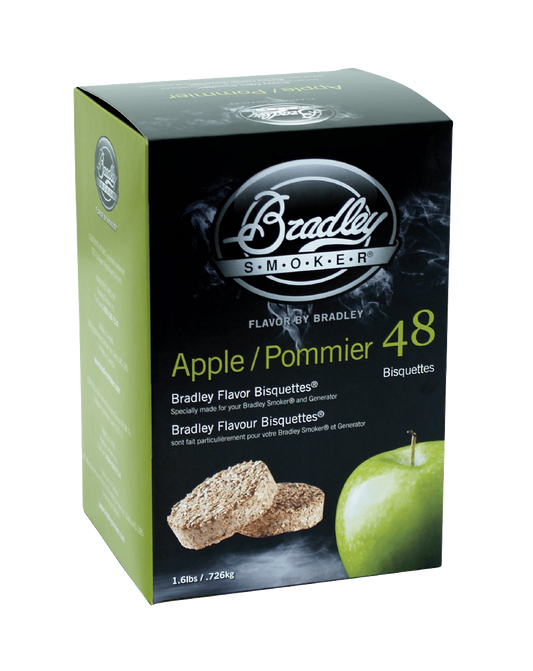 A light, fruity and slightly sweet smoke aroma that pairs with poultry, beef, pork, lamb, and cheese.
Shop Now