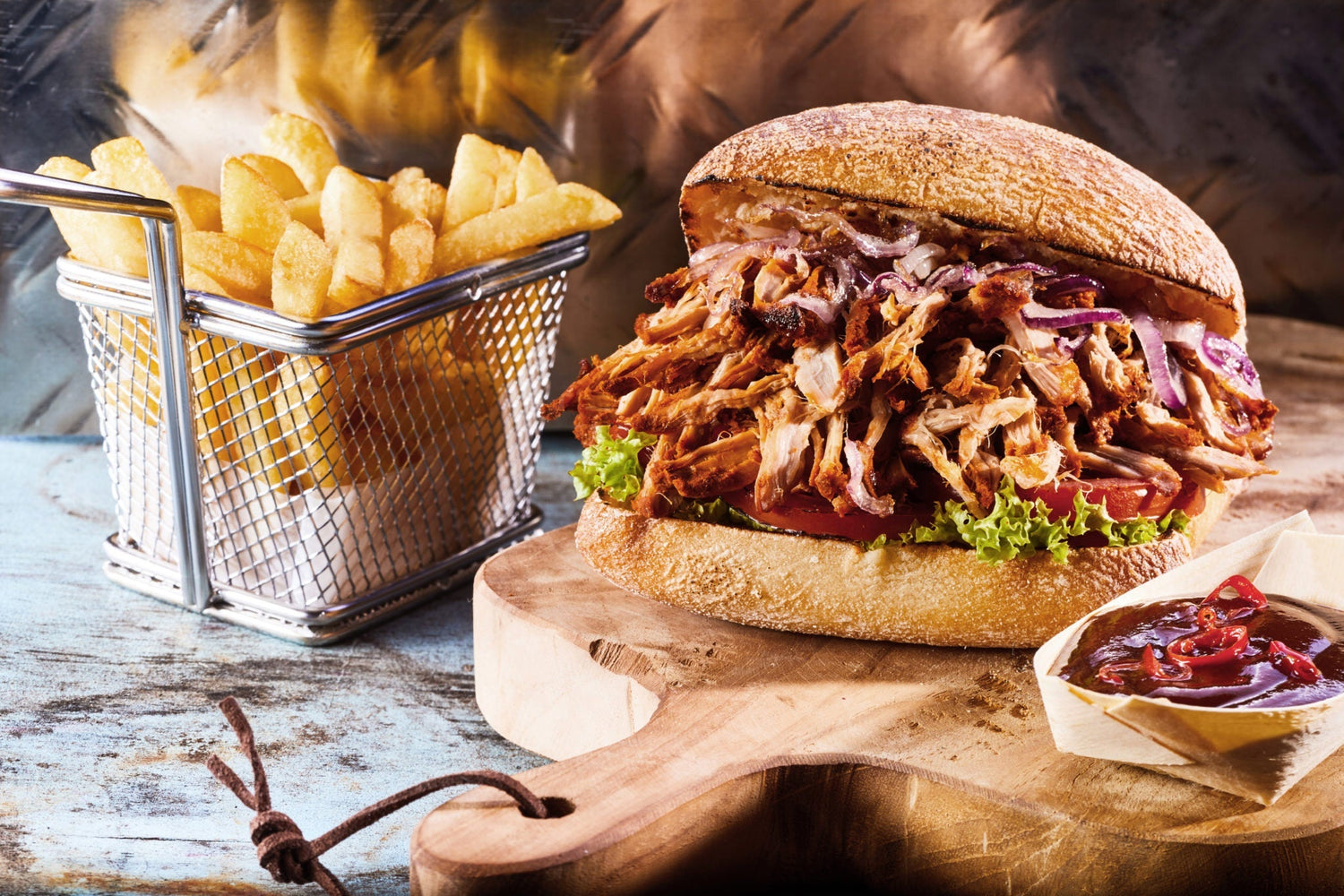 How to Smoke
Pull Pork Sandwiches


I made some killer Smoked Pulled Pork Sandwiches with spicy slaw topping and fried pickles on my new Bradley Smoker model P10, just like the new one that we're giving away. If you want to know more about controlling the smoke separately from the heat, then please check out Bradley's website.
Ingredients
Pork Rub:
½ Cup coarse salt
1 Tsp black pepper
½ Cup minced or granulated garlic
6 Tbsp of minced or granulated onion
½ Cup smoked paprika
½ Cup brown sugar
2 Tbsp freshly chopped thyme or 2 tsp dried
½ tsp ground nutmeg
Pulled Pork:
1 (4 to 6 pound) Boston Butt (I used a 7 pounder and it took me 10 ½ hours)
1 Cup mustard
1 Cup Pork Rub (see the recipe below this one)
¼ Cup brown sugar
1 Cup apple juice
Preparation
Pork Rub:
Mix all the ingredients together in a medium-sized bowl. If you use freshly minced garlic, use the rub within 4 days. With granulated garlic, store in a sealed container for up to a month.
Pulled Pork:
Preheat your smoker to 225ºF (107°C).
Slather the meat with mustard.
Mix the pork rub with the brown sugar. Then, generously sprinkle the mixture over the meat, rubbing it all over.
Place the pork in the smoker and cook for 4 hours.
Remove the pork, spray with the apple juice, and wrap tightly in butcher paper. Smoke it for another 2 hours, or until the internal temperature reaches 195ºF (90.5°C).
Let the pork rest for an hour, then shred it.
Pair With:
Serve this pork with your favorite sauce and have those Kaiser buns toasted and ready. Pro tip: this sandwich is marvelous when you spoon some smoked Mac N Cheese on it.
Know Your Ingredients:
Boston butt is a cut of pork that comes from the upper part of the shoulder from the front leg. Sometimes it is sold with the bone in, but I prefer the boneless butt.
Recipe by: Marc's on the Grill