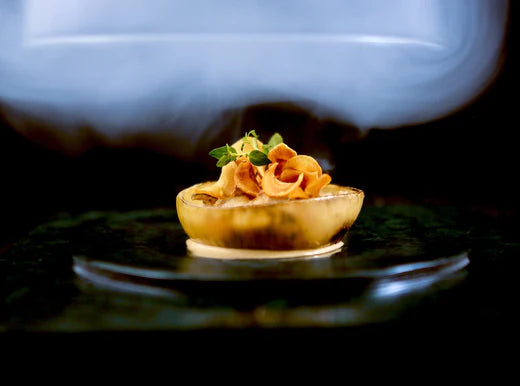 Lightly
smoked pork side

with Karl-Johan, pickled red onion and cream

Thomas Karlstein

Luxurious ingredients, sure, but something that makes us here at Bradley even happier is when even relatively simple ones are put together into something unexpectedly good.
Ingredients
4 people
approx. 1.2 kg rimmed pork side in pieces (not all can be eaten)
2 handfuls of dried Karl Johan mushrooms
approx. 2 dl of water to soak the mushrooms in
Parsnip chips:
2 washed and dried smaller parsnips
oil to fry in Onion rings (to serve from)
2 really large yellow onions
100 g butter
1 teaspoon salt
Whipped cream inside the rings of 3 slices of onion:
2 tablespoons onion butter
1.5 dl white wine (same as in the glass, preferably a Chablis)
2 teaspoons concentrated mushroom or veal stock
4 dl whipping cream
Preparation
Luxurious ingredients, sure, but something that makes us here at Bradley even happier is when even relatively simple ones are put together into something unexpectedly good. Like when the first bite provokes a big smile. When the other reminds of a revival movement. How after the third fork, now also overwhelmed by the synchronized potion, you have to lean back and lash out with your arms. And finally. When that tear of pleasure can just be held back. In this dish, it's a shy slice of pickled red onion that makes you put down your cutlery. A single small piece of onion makes all the difference.
Of course, the dish is good even without it, but it is because of the onion's contribution to the whole that you dance out of the dining room. The whole reasoning about flavor combinations is of course well-worn, but once you are reminded of it physically, it is forgotten.
Without thinking about it, I soon once again explained to those around me how amazing it is when you find the right composition. They smile honestly and understandingly, pretend that my slightly dilated tear duct is just cute and ignore my nagging this time too. For me it is real. So what else combined with that slice of onion was so innovative it brought tears? Well, something as simple as a lightly smoked baked side of pork cut into cubes and mixed with porcini mushrooms and then served in a sous vide embracing slice of onion. On top, a whipped cream and crispy parsnip chips. All served with an aroma of smoke under the cup.
Method:
The pork side and the mushroom:
Rinse the pork side in cold water and dry it thoroughly.
Place on a wire rack and smoke at 110°C for 2 hours.
Then stop smoking, but continue baking in (same temperature) in the oven or in smoke (without the smoke unit running) for another 4 hours.
Soak the mushroom in 2.5dl of water. (This is advantageously done already when you start smoking the pork side).
Cover or press the dried mushroom into the water, but try not to use more water than possible. The water must then be saved and used in the whipped cream, which is why you want as concentrated a mushroom flavor on the water as possible.
Parsnip chips:
Make chip-thin slices of the parsnips in a mandolin. Then fry at 180°C until they are lightly browned.
Drain and cool on paper towels.
Then store dry until serving. (They only get tough in an hour if they stand out in the kitchen. Therefore put them in a plastic jar when they are COMPLETELY cool.)
Onion rings (to serve out of):
Peel and cut really large onions into slices approx. 25 mm high. (Cut off the sides with a button and blast, then cut into two slices).
The onion rings should then be used as a bowl to serve the other ingredients in.
Vacuum pack the onion slices intact with generous amounts of butter (100g) and a teaspoon of salt.
Throw in a sous vide bath at 86°C for 2.5h.
When the onion is ready, remove the outermost rings from the onion slices so that you have 4 pieces. in about the same size.
Set aside. Save the butter.
Whipped cream:
Put some of the inner onion rings that have just been sous vide in a pan with three tablespoons of the butter that the onions were bathed in.
Saute the onions in the butter. Increase the heat and add the wine. When it stops sounding, put down about 2 dl of the mushroom water, (not the mushroom), as well as the concentrated stock. (Let the mushrooms drain in a strainer in the meantime.) Then let the stock boil down to half.
Remove from the heat and add the cream.
Bring to a boil again and then let reduce down to somewhere around 2/3. Strain out the onion.
Add just under 2% lecithin by weight of the reduced cream mixture.
Mix with an immersion blender and strain into a siphon.
Fit a cream cartridge, turn upside down and tighten.
Shake and set aside in a warm water bath unless the siphon is insulated.
The mushroom:
Gently squeeze the liquid out of the mushroom.
Put some of the remaining onion butter in a pan and fry the mushrooms.
Season with pepper.
When the mushrooms feel ready, add a splash of whipped cream and fry on a slightly lower heat for another minute or so. The cream should mostly disappear. 
Meanwhile, cut the pork side into cubes of roughly 1x1cm. Try to keep the pork warm. (A tip is to improve the heat with a burner.)
Place the onion rings on heated plates and go over the edges quickly with a burner.
Lay down the pork interspersed with the mushrooms up to half. Then add pickled red onion. Think two rings of red onion about 30mm in diameter.
Top with more mushrooms and pork just below the edge of the onion.
Shake the siphon and test-spray some whipped cream on the side. Then top the onion halves with foam and finally garnish with the parsnip chips and single leaves of fresh thyme on top.
Cover with a smoke dome, inject smoke from a smoke gun and serve immediately.
Variety
Pack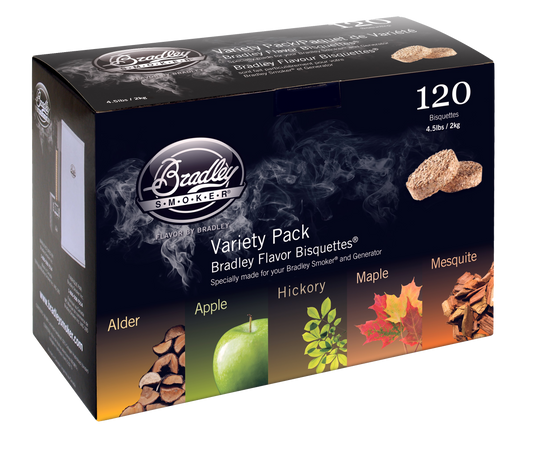 This variety pack contains 24 each of apple, alder, mesquite, hickory and maple for a variety of flavors.
Shop Now