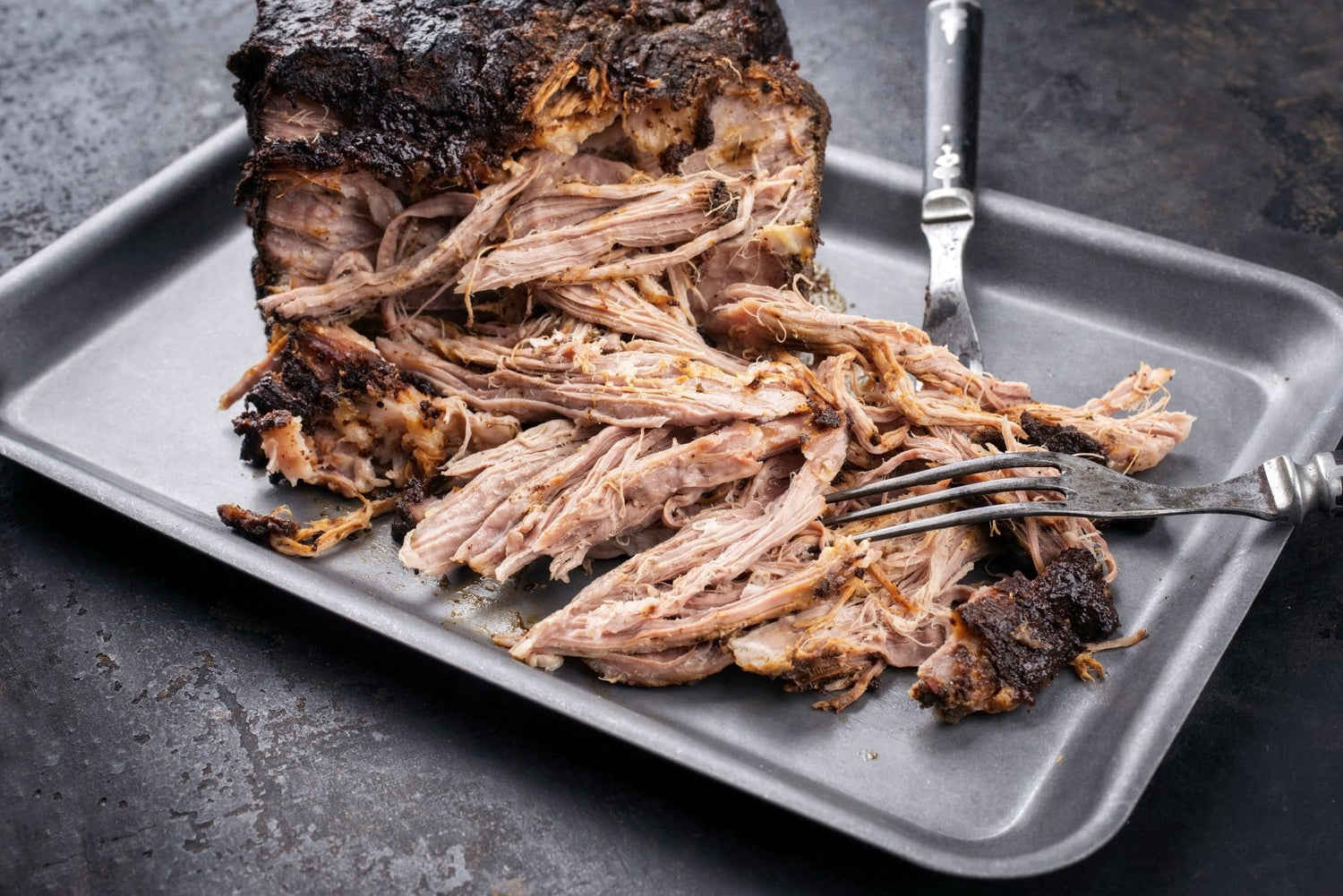 Smoked
Pulled Pork

Recipe



Best if you start cooking the day before serving. Boston butt is the easiest to make on a small scale. Use a shoulder or a whole shoulder (which is a shoulder plus the Boston butt) for larger crowds.
Ingredients
3 Cups apple cider vinegar

¼ Cup each salt, brown sugar, ground black pepper

2 Tbsp cayenne pepper

¼ Pound butter

4 Cups water

8 to 12 pounds Boston butt roast
Preparation
In a non-reactive saucepan, combine the cider vinegar, salt, brown sugar, black pepper, cayenne pepper, and butter. Bring to a rolling boil over medium-high heat. Set aside and let cool.

When the sauce has cooled to room temperature, place the butt or shoulder in a large zip-lock-bag and pour about half of the sauce over the meat and seal the bag. If it is too large to fit in the bag, place the meat in a large plastic or any other non-reactive pan and cover it. Refrigerate overnight, turning the bag or the meat about halfway through the marinating period. Save the remaining unused sauce in a refrigerated container.

The next day, preheat the smoker to 200ºF. Make sure the smoke generator is off and place 12 hickory biscuits in the loading tube, and place 2-3 Bubba Pucks in last. Season the meat with Kosher salt, garlic powder, onion powder and coarse ground pepper.
The Smoking Process:
Meat goes in the Bradley then turn on the smoke generator. Shut the door and advance the wood pucks to the hot plate to begin the smoking process. Baste the meat with the remainder of the sauce about every 1 to 1½ hours.

When the internal temperature of the meat reaches 165 degrees, use aluminum foil to wrap the meat. Fold the edges of two sheets together to form a watertight seal. Place the meat in the center and bring the edges up to the top, cupping the meat. Pour 1 cup of the sauce over the meat and then seal the foil tightly around the roast.

Place the meat package back in the smoker, or in a 350-degree oven (175°C). If it is on the smoker, increase the heat to 300 degrees. Cook the package until the meat pulls easily from the bone. If you can pull the blade bone from a Boston butt easily, it is perfectly done. This part of the procedure will take up to 2 hours (no smoke). But remember, it ain't done until the internal thermometer says it is. Time is not a relevant factor when smoking. It will be done when it is done. When it is done, wrap the meat in heavy foil and seal it tightly, then wrap the foil-sealed meat in a towel, and then place towel-wrapped meat in an empty ice chest (NO ICE). This is the FTC procedure you have been hearing so much about on the BS Forum. Let stand in cooler for 1-2 hours. You can also place it in an empty microwave oven.

Tip: If you maintain a constant temperature of 200 to 204 degrees in the smoke and cook until you have the correct internal temperature, you will have achieved the perfect smoke. Now start planning your next smoke.

From Sauce Bauce