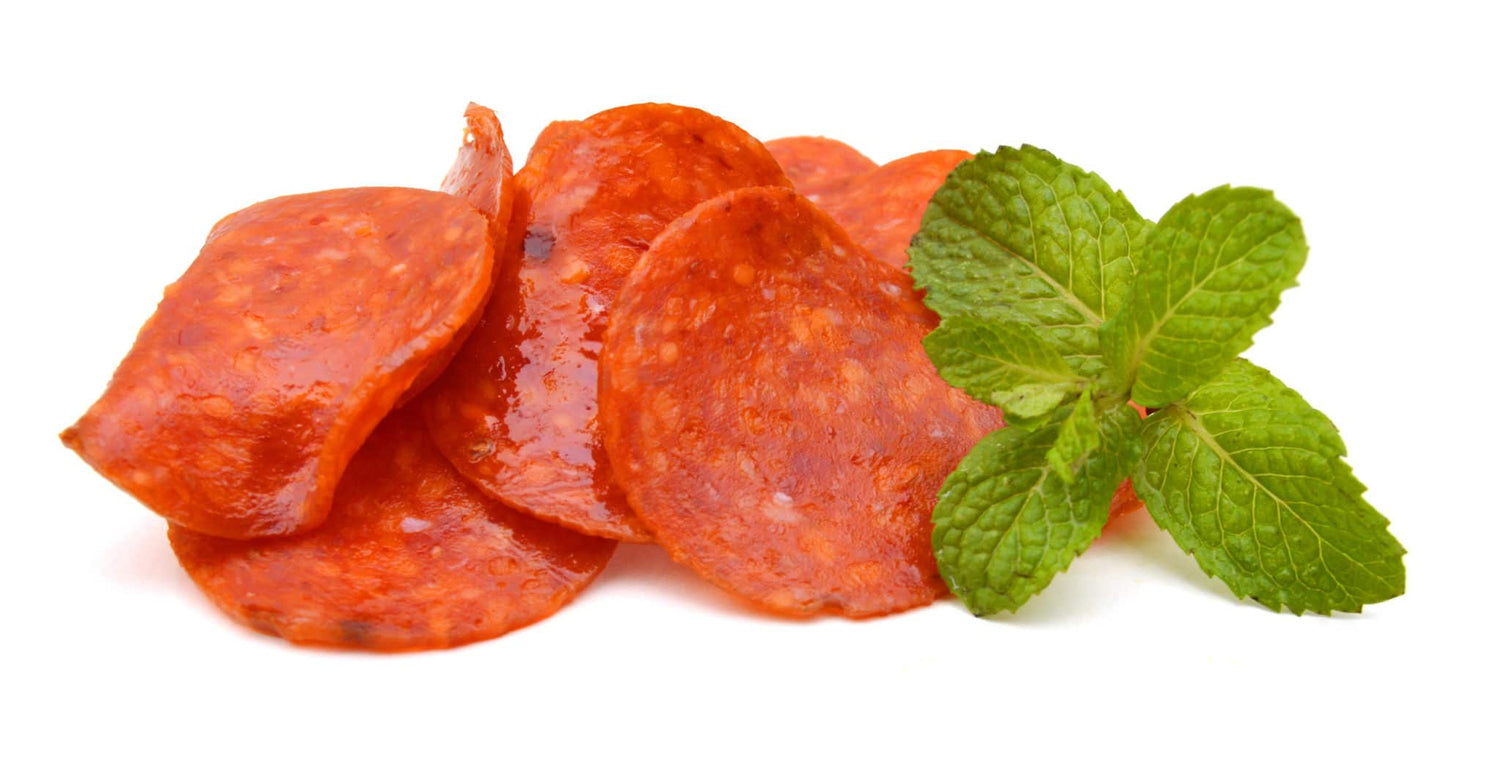 Semi-Dry Cured Smoked
Pepperoni

Recipe



If you're a fan of smoked meats, you won't be able to resist this savoury recipe for homemade smoked pepperoni. Made with a mix of lean pork and beef, and a blend of spices, this cured sausage is sure to be a hit at your next gathering.
Ingredients
5 Pounds, lean pork or beef or combination of the two
3 Tbsp salt
1 Tbsp powdered dextrose
½ Tbsp hot pepper flakes
½ tsp ground allspice
2½ Tsp ground anise seed
½ Cup soy protein concentrate or non-fat milk powder
1 Cup water
6 Tbsp Fermento
1½ Tbsp corn syrup solids (you can substitute for½ to¾ tbsp of splenda)
1 Tsp pink salt (InstaCure #1, Prague Powder #1, DQ #1, etc.)
32-35 mm hog casings or 32 mm collagen casing
Preparation
Make sure the grinding equipment and meat are cold, before grinding meat.
Place ground meat and the rest of the ingredients into a bowl, and keep your bowl set in another bowl of ice while working. This prevents breaking your mixture. Mix all the ingredients extremely well. After that, keep your meat in the refrigerator until you are ready to stuff in casings.
Stuff the casings into lengths that will easily fit and hang inside the Bradley Smoker. Use butchers twine to tie hanging loops on the end of the sausage, making sure that the loops are large enough so the wooden dowel will easily slip through.
Next you will need to dry the casings. Preheat smoker to 125ºF, with vent wide open. Using hickory dowels that are cut to fit inside the Bradley, thread dowels through the hanging loops. Hang the pepperoni inside the smoker, by resting the dowels on the top shelf support.
The Smoking Process:
Keep the temperature at 125ºF until the sausage casings are dry.
Natural casings will take longer then the collagen casings to dry.
Once the casings are dry, close vent to ¼ opening, raise the temperature of the smoker to 165ºF, and hold until internal temperature of the pepperoni reaches 145ºF. If you like, you can add wood bisquettes at this stage. Pepperoni is usually not smoked but I used 6 apple bisquettes for a mild smoke flavor.
Remove sausage from the smoker once the internal temperature has reached 145ºF. Chill with cold water until the internal temperature is reduced to 90-100ºF. I like to check at least 2 of the sausages on different sides of the smoker. Using a remote probe system like the Maverick really makes this a snap.
You can eat the smoked pepperoni right away, store in refrigerator, or freeze.
From Stickbowcrafter – Brian
Adapted from; Great Sausage Recipes And Meat Curing, by Rytek Kutas
Apple
Wood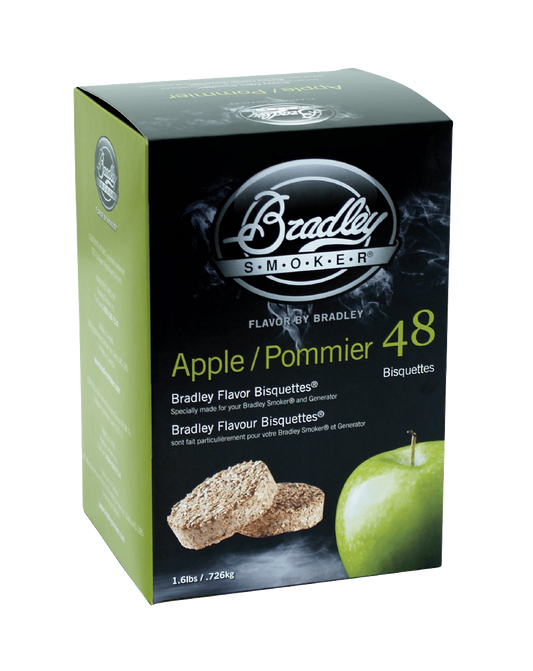 A light, fruity and slightly sweet smoke aroma that pairs with poultry, beef, pork, lamb, and cheese.
Shop Now