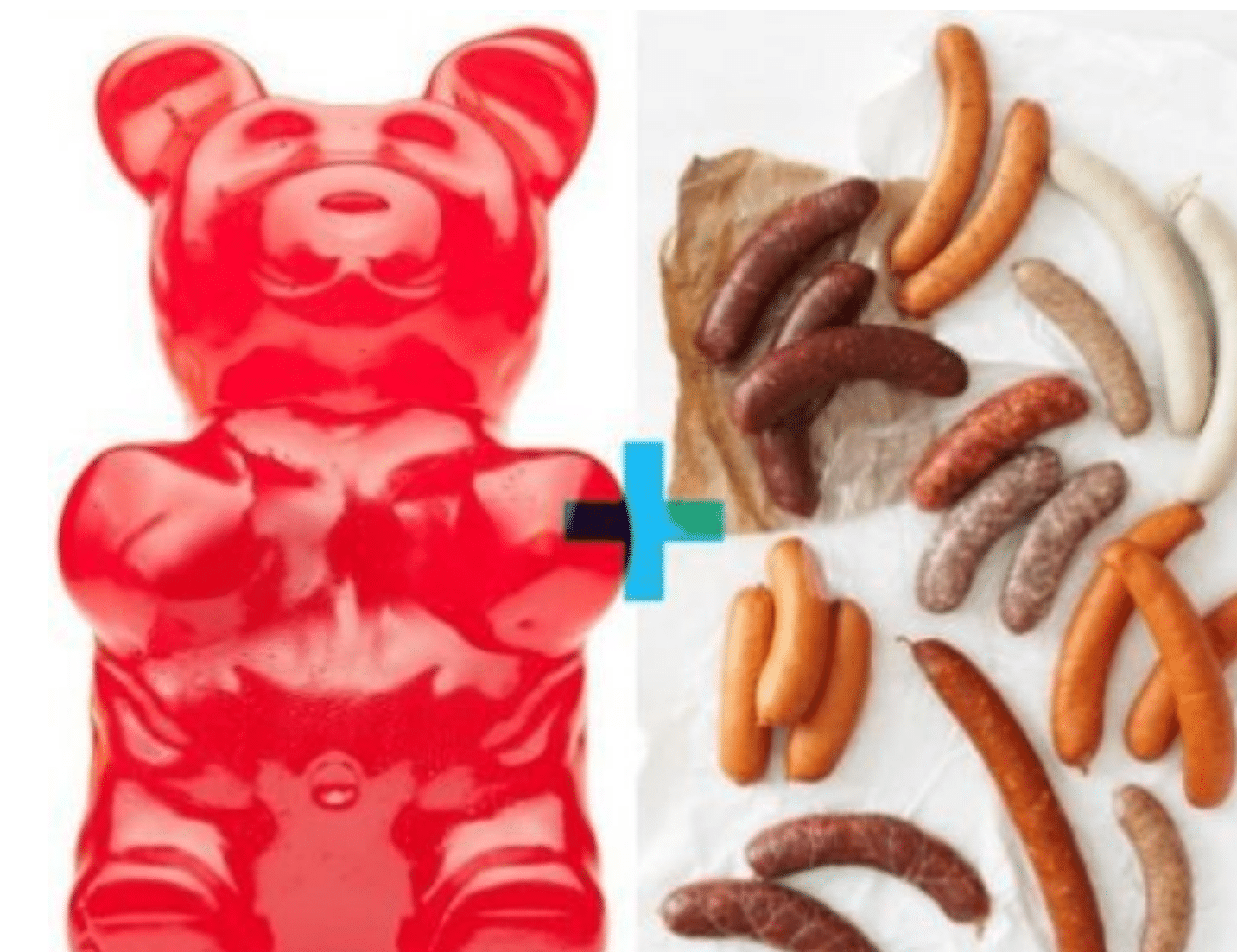 Smoked
Gummy Bear Brats


Yeah your eyes aren't playing tricks on you. This is a recipe for Smoked Gummy Bear Brats. When I told my friend what I was up to, he mentioned something about losing my flippin mind!! He might have used different words. The thing that sold this whole idea was a post that said "I've been served little smokies and meatballs with grape jelly on them!" I presented the idea to my daughter and she stated: Oh hell yeah make these, Dad! And here it is. The kids just had to have them for supper tonight. So I grilled up 4 of them. Sorta ended up with Swiss Brats! Holes in my brats shaped like Gummy Bears. Great Brat flavor with pockets of sweetness in them. You can also freeze some and smoke them later.
Ingredients
4 Lbs. Ground Pork
1 Lb. Ground Veal, Chicken or Turkey
1/4 Cup Bread Crumbs
2 eggs
5 teaspoons salt
1 cup of milk
1 1/2 teaspoons white pepper
1/2 teaspoon onion powder or 1 onion minced
1/2 teaspoon mace
1 Tbs. special meat binder
1 cup Gummy bears
Preparation
Combine all ingredients except gummy bears and mix until you get a bind. Then add the gummy bears, mix gently, stuff into natural casings, and link into sausages.
Preheat smoker to 250 degrees. Put sausage in the smoker using middle racks.
Smoke with 4 pucks of your favorite wood, and continue to cook for a total time of two hours.
Pull out of the smoker and allow it to rest for several minutes. Then enjoy.
Refrigerate or freeze extra sausages for later use.
Additional Info:
The total smoking/cooking time should be sufficient, but if you intend to use an internal temperature reading, the following are recommended temperatures:
Beef and Pork: 152°F/160°F
Chicken and Turkey: 160°F/165°F