Smoked Pork Belly

Lardon on Spring Salad of Baby Broad Beans

Sandra Tate

Pork Belly strips are not only cheap and cheerful, but relatively quick to cure. Once smoked, they are ideal for cutting into chunky lardon to perk up salads, add to slow cooked dishes or to liven up a breakfast.
Ingredients
200g smoked pork belly lardon
750g baby broad beans (shelled weight approx 180g)
150g fine beans
1 bunch of spring onions
1 pack of rocket leaves
For the dressing:
1tsp Dijon mustard
1tbsp white wine vinegar
3tbsp sunflower oil
Preparation
For this I used a very minimal amount of cure - trust me it works - and with the inclusion of garlic, thyme and rosemary the result is akin to pancetta, and not too salty. Make sure that the strips are rubbed evenly and well with the cure, and that they are wrapped tightly with several layers of cling film.
See below for method and quantities.
Curing and Smoking the Pork Belly Strips:
For 1kg of pork belly strips you will need the following, well combined on a bowl: 32g curing salts, 13g soft brown sugar, 2g dried garlic powder, 2g dried thyme leaves, and 2g dried rosemary (weigh your pork and use a proportion of these amounts accordingly).
Lay a long strip of cling film on a board (long enough for the pork belly strips to be arranged side by side) and sprinkle almost half of the cure evenly across it.
Lay the strips onto the cure, rubbing them into the mix.
Sprinkle the remaining cure over the top and again rub into the meat.
Now wrap tightly with more cling film, several layers, so that the strips are quite secure and the cure cannot weep out of the parcel.
Refrigerate for 3 days.
Open the parcel and gently pat dry the strips with kitchen towel, then arrange across a Bradley metal basket.
Leave to dry further for 2-3 hours then load the Bradley stack with enough apple wood bisquettes, connect the cold smoke attachment if using the standard model, and smoke them for 4 hours.
Smoking Method:
First make the dressing by placing all the ingredients into a small screw top jar and shaking vigorously to make a thick, creamy emulsion.
Cut several rashers of smoked pork belly into chunky lardon. Dry fry to golden brown and crispy, set aside.
Blanch the shelled baby broad beans for a couple of minutes, drain, peel off the outer skin and set aside.
Trim the fine beans and cook for 3-4 minutes in boiling salted water, or until tender, drain and set aside.
Trim the spring onions and cut into very fine slices.
Toss the green salad ingredients together and divide between 4 plates. Scatter over some lardon and spoon a few drops of Dijon emulsion around the plate.
Serve with warm crusty bread.
Apple
Wood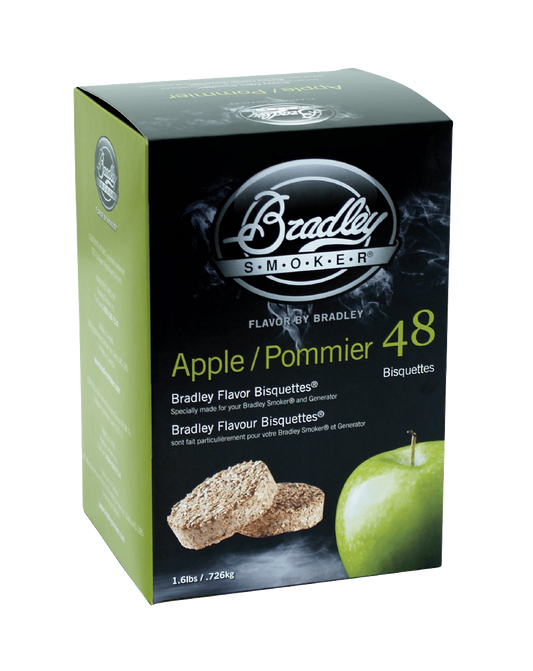 A light, fruity and slightly sweet smoke aroma that pairs with poultry, beef, pork, lamb, and cheese.
Shop Now