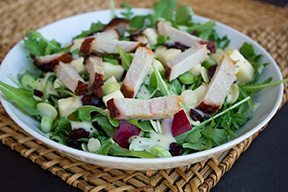 Smoked
Pork Loin, Apple & Arugula

Salad



This recipe uses a pork loin roast with a rub for the main components of a salad, but leftovers are great in a sandwich or other dishes.
Ingredients
One 2 pound pork loin roast
1 1/2 tbsp Dijon mustard
1/2 tsp salt
1/2 tsp garlic powder
1 tbsp mustard seeds
1/2 tsp ground black pepper
1 tsp dried parsley
2 tbsp honey
4 cups arugula
1 royal gala apple, cored and diced
4 green onions, thinly sliced
1/2 cup dried cranberries
1/2 cup sliced almonds
2/3 cup poppy seed salad dressing
Bradley Smoker Flavor Bisquettes – Hickory, Apple or Cherry
Preparation
In a small bowl, mix together the Dijon mustard, salt, garlic powder, mustard seeds, black pepper, parsley and honey.
Spread the mustard spice mixture all over the pork loin and place it on the smoker rack.
Set the smoker to 275°F, using wood bisquettes of choice (hickory, apple and cherry work great).
Smoke the pork loin until it reaches an internal temperature of 160°F (this can take around 2 1/2 – 3 hours).
Let the pork rest for 10 minutes. Cut into 1/2 inch medallions and then slice the medallions into 1/2 inch strips.
Assemble the salad on individual plates, by laying some arugula, apple, cranberries, almonds and green onions. Top with some smoked pork strips and drizzle with poppy seed dressing.
Serve immediately.
by Steve Clyka
Hickory
Wood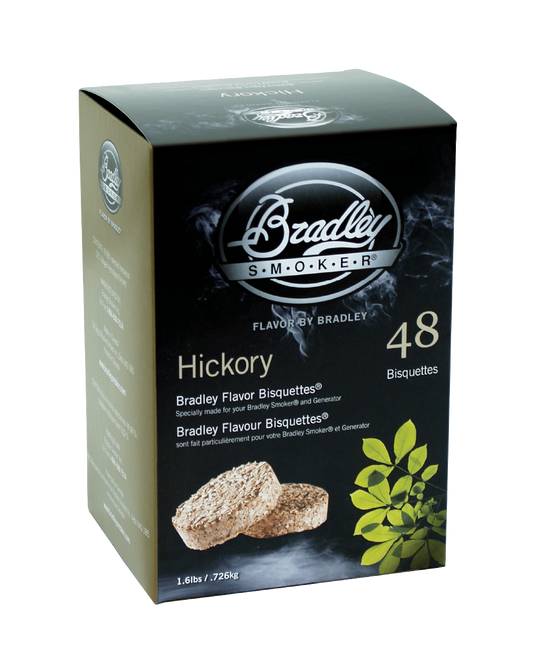 The strong and sweet flavour of Hickory Bisquettes make it one of the more popular woods for smoking, and especially pairs well with poultry, beef, pork, game, water fowl, nuts, and cheese.
Shop Now