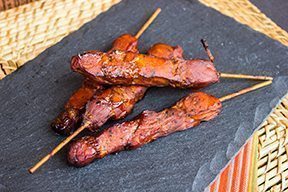 Smoked
Pork Souvlaki

Recipe



This smoked pork souvlaki is full of flavor. Serve it with Greek salad, rice or on a pita bread.
Ingredients
1½ to 2-pound boneless pork loin roast

¼ Cup red wine vinegar

¼ Cup olive oil

1 Tbsp salt

1½ Tbsp fresh ground black pepper

2 Tbsp garlic powder

2 Tbsp paprika

2 Tsp oregano

2 Tsp sugar

Wooden skewers
Bradley Flavor Bisquettes – Maple or Oak
Preparation
Cut the pork loin into even-sized 1-inch cubes.
Mix together the remaining ingredients to make the souvlaki rub/paste.

Place the cubed pork in a large bowl and add the souvlaki paste. Toss the meat so that all are coated. Cover with plastic wrap and place in the fridge for 1-2 hours.

Soak wooden skewers in water for 20-30 minutes

Thread the marinated pork cubes onto the skewers. Place the skewers, side by side on smoker racks, making sure they are not touching each other.

Start up the smoker, using wood bisquettes of choice (maple or oak works very well!). Bring the smoker up to a temperature of 250°F.

Place the pork skewers in the smoker and cook until the internal temperature reaches 155°F, about 2½ hours.
Apple
Wood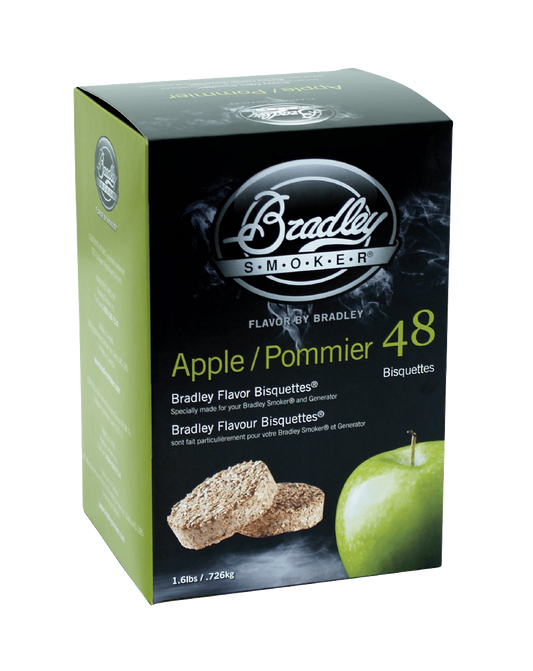 A light, fruity and slightly sweet smoke aroma that pairs with poultry, beef, pork, lamb, and cheese.
Shop Now