Bradley
Smoked Onion

Tart

Sandra Tate

A strong, post Christmas desire to eat simpler food drove me to try smoking the humble onion.
Ingredients
(Makes 8)
for the filling:
800g smoked onion, thinly sliced
30g butter
1- 2 tsp soft brown sugar
6 tbsp white balsamic vinegar
100g strong cheddar, crumbled
bunch of chives, finely chopped
a pinch of cayenne pepper
salt & pepper
for the pastry:
200g plain flour
100g butter
pinch of salt
1 egg
8 x 9cm loose bottomed tartlet tins
Preparation
Enough of the turkey, potatoes cooked in goose fat, Stilton and port... let's get back to basics. Onion is so sweet and unctuous when cooked slowly for a soup or tart - I thought it could only be improved by light smoking and the addition of some of the strong, Quickes Cheddar left over from the Christmas cheese board. These delightful tartlets are perfect as a starter, or light lunch with salad.
Smoke more onions than you need and use them in soups or stews to add a smoky note to other dishes.
This recipe is for individual tartlets but could, if you prefer, make a family sized tart. 
Method:
Smoking the onions:
Remove the skins, halve, and spread over a Bradley Smoker wire rack.
Load the stack with oak bisquettes.
With the heat setting off, smoke the onions for 30 minutes (or for an hour if you want a more intense flavour), the outside will be lightly smoke-browned.
Melt the butter in a large saucepan, add the thinly sliced, smoked onion, sugar and white balsamic vinegar, stir. Season with salt and pepper and cook gently for about 30 minutes, stirring often, until the onions are soft and sticky and the liquid has evaporated away. Set aside to cool. 
For the pastry:
Place the flour, salt and butter in a food processor and pulse to incorporate.
Now add the egg and process until the pastry begins to ball, stop immediately.
Wrap in cling film and refrigerate for 20 minutes.
Preheat the oven to 180°C.
Cut the pastry into 8 equal parts and roll each very thinly to line the tart tins.
Trim away any excess pastry and prick the bases with a fork.
Arrange the tartlets on baking sheets and bake for 10 minutes, or until the surface of the pastry looks dry.
Remove from the oven.
Spoon some cooled onion mixture into each and bake for a further 15-20 minutes until the pastry is golden and the onion is piping hot.
Remove from the oven, lift carefully from the tins, and sprinkle with crumbled cheddar and finely chopped chives.
Now add a tiny dusting of cayenne and serve immediately.
Oak
Wood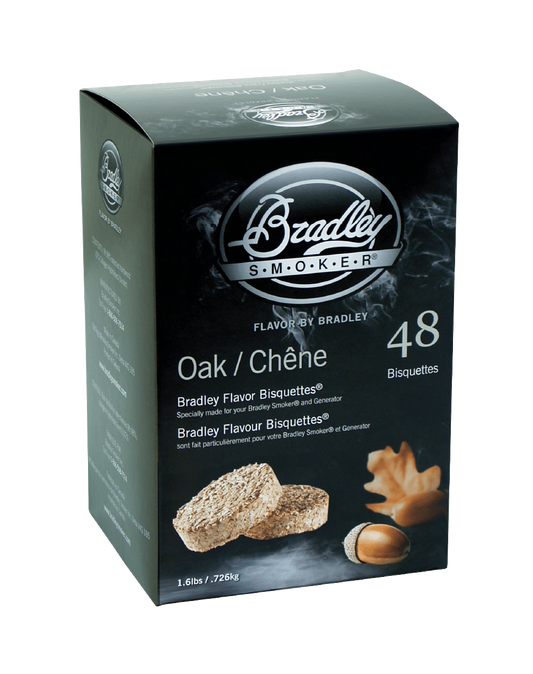 The most versatile wood of them all is Oak. Pairs especially well with poultry, beef, pork, lamb, and game.
Shop Now