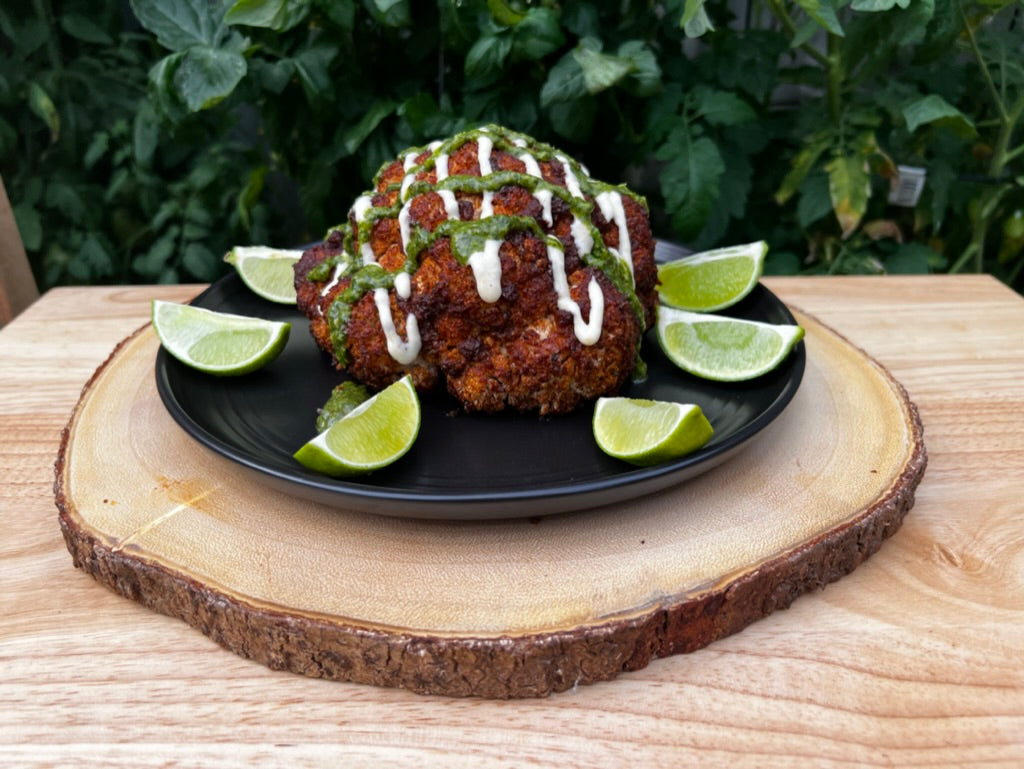 Smoked
Mexican-Inspired Cauliflower

Burnt Ends Recipe



Indulge in the smoky and enticing flavors of our Spicy Smoked Cauliflower! This mouthwatering recipe features a perfectly seasoned cauliflower, smoked to perfection for 2 hours and then grilled to a crispy, charred finish. Topped with cilantro and a squeeze of lime, this dish is a delightful explosion of taste and texture that will leave you craving for more.
Ingredients
1 Cauliflower

4 Cloves of garlic

½ White onion

2 Tbsp kosher salt

1 Tbsp ancho chile powder

1 Tbsp guajillo chile powder

1 Tbsp in ground cumin

2 Tsp dried oregano, preferably Mexican

1 Tsp chipotle chili powder

¼ Tsp ground cloves

A handful of rough chopped cilantro for garnish

A couple of lime wedges
Preparation
Preparation - Smoke
Set your smoker to 225 ºF

Set your smoke time to 2 hours

Bring the cauliflower up to room temperature before smoking. Place the cauliflower on a wire rack and smoke for 2 hours.

Once done, bring your cauliflower to rest while you get your grill or charcoal up to temperature. If you're using charcoal, you'll want a fairly high coal temperature, especially if your grill height is away from the coals.

Re-rub the cauliflower and place it on the grill.

Grill the cauliflower on all sides. You're looking to get a crispy, almost burnt flower. The char will add to the flavour.

Serve on a nice dish with a big knife in the middle. Sprinkle on some chopped cilantro and give a squeeze of lime juice overtop to brighten the flavours with acid.
Preparation - Method
Trim the bottom leaves off the cauliflower and slice the base to create a flat bottom. You want the cauliflower to sit with the flower upwards in the smoker.
Making the Rub
In a blender, dropped the roughly chopped onion and garlic cloves along with the remaining dry ingredients. Leave out the cilantro and lime.
Blend everything up and add a little water if needed. You want a thick soup consistency that you can rub all over the cauliflower and have it stick.
Apply the wet rub all over the cauliflower and place it in a dish. Refrigerate for at least 12 hours to let the rub season the vegetable.
Keep the remaining rub for the next day as you'll want to re-rub the smoked cauliflower to add more flavor before grilling.
Maple
Wood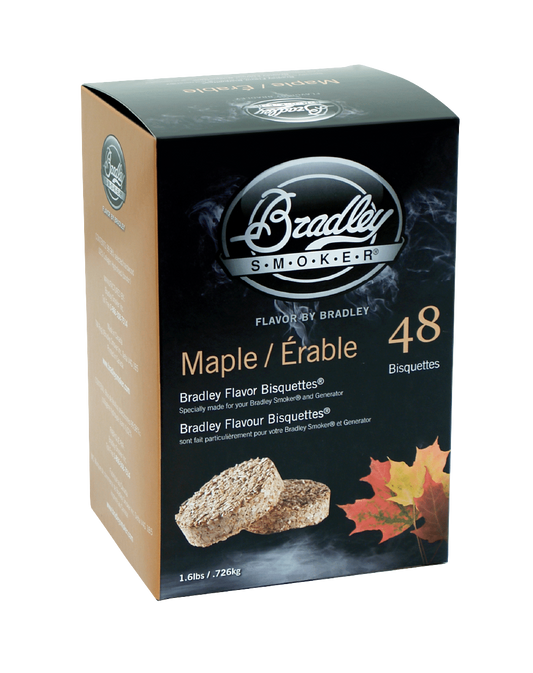 With a mildly smoky, sweet and subtle flavour, Maple Bisquettes are perfect for smoking turkeys, and enhancing the taste of poultry and game birds.
Shop Now