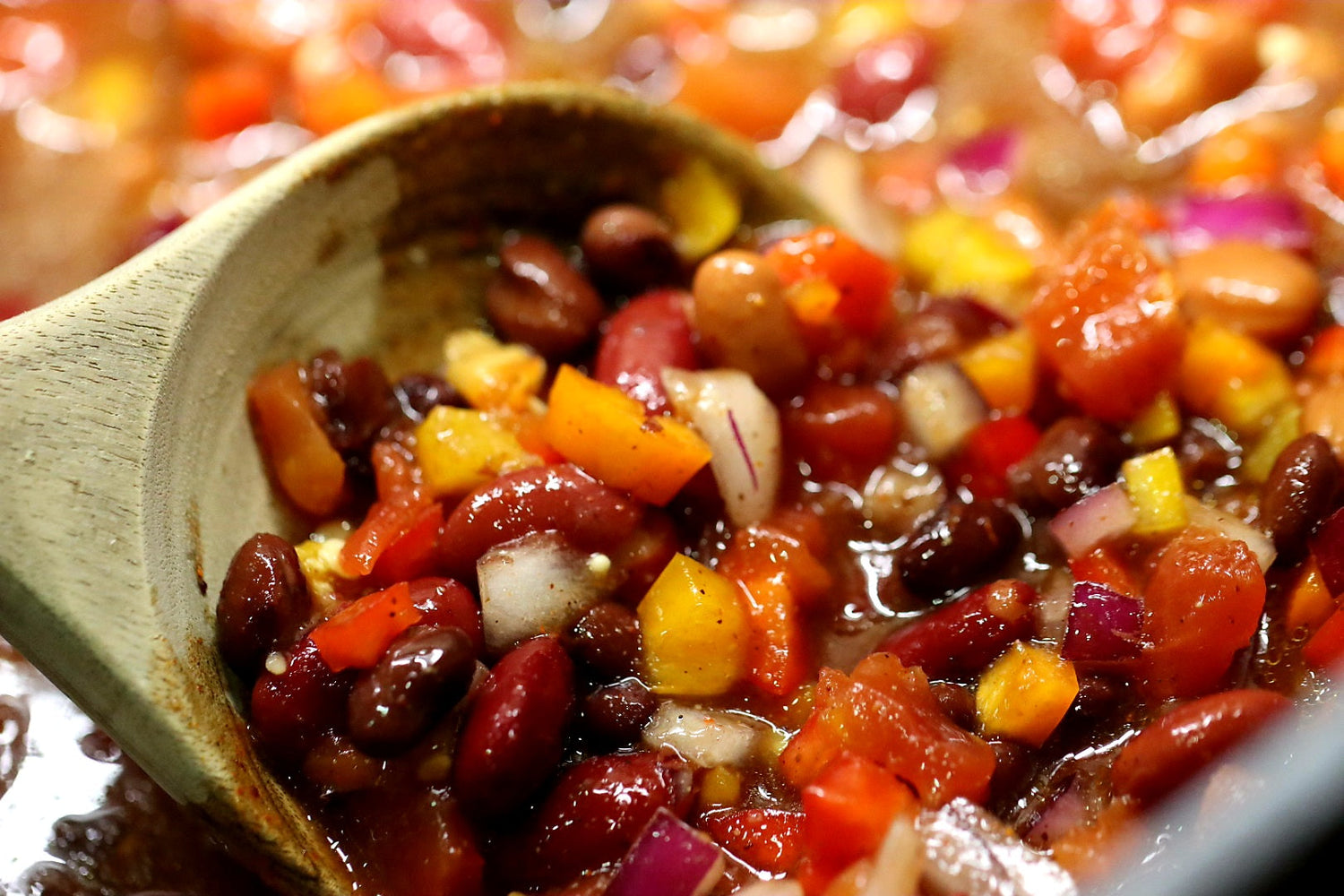 Smoked Vegetarian
Chili

Recipe



Looking for a hearty, flavorful chili recipe that's 100% meat-free? Our smoked vegetarian chili is just the ticket! Loaded with smoky, savory flavors and a variety of vegetables, beans, and spices, this dish is sure to satisfy even the most dedicated carnivores.
Ingredients
1 Can chili beans (black beans in chili sauce)

1 Can of mixed chili beans kidney & pinto beans
6-8 Sweet mini peppers
1 Cup vegetable stock
1 Can Rotel mild
½ Sweet onion (diced)
1 Tbsp ketchup
1 Tsp Sriracha chili sauce
1 Tbsp BBQ sauce
1 Tbsp honey
¼ Tsp cayenne pepper
¼ Tsp ground white pepper
1 Tsp ground oregano
1 Tsp vegan chicken-less seasoning salt
1 ½ Tsp paprika
3 Tbsp chili powder
3 Tbsp ground cumin
1 Tsp onion powder
1 Tsp smoked gouda powder
Garnishes: fiesta blend cheese, sour cream, and fresh cilantro
Equipment Used:
P10 Bradley Smoker
Bradley smoker foldable table
Bradley smoker non-stick silicone mats
Bradley smoker tools
Thermoworks timestick trio
Thermoworks thermapen one
Bradley Smoker Settings:
Wood: Oak
Temperature: 300ºF (148.9ºC)
Smoke Timer: 140 minutes
Timer: 140 minutes
Preparation
Set Bradley Smoker to the listed settings above.
Rinse the peppers and onion. Dice them to the size of your liking. I prefer mine to be almost minced.
In a large pot add everything above in the ingredients list and place it into the Bradley Smoker.
Smoke for 140 minutes at 300ºF (148.9ºC).
Add garnishes of your choice and enjoy!
Recipe by: Bryan Edwards - Moodie Foodie Tulsa